ICC rejects move to make DRS compulsory
Last updated on .From the section Cricket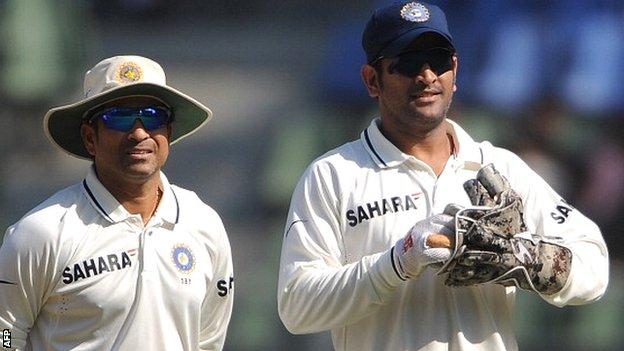 The International Cricket Council (ICC) has rejected a new move to make the Decision Review System (DRS) compulsory for Tests and one-day internationals.
No reason was given for the decision, although the Board of Control for Cricket in India has been consistently opposed to the use of DRS.
An ICC statement after the board meeting read: "The ICC board agreed to continue with the present arrangement."
Currently, two competing nations in a bilateral series decide on use of DRS.
Earlier in the week, the ICC's chief executives' committee had recommended that it become mandatory, but the board - which contains representatives of all 10 Test-playing nations' boards, plus three associates - rejected the move.
Former England captain Michael Vaughan had earlier urged the ICC to take a firm stance with India over mandatory video technology.
On BBC Radio 5 live's Tuffers and Vaughan Cricket Show, Vaughan said: "The ICC has to show authority and say to India 'this is happening, get used to it'."
The DRS was first used on a trial basis in a Test match between Sri Lanka and India in 2008, but it remains at the discretion of national boards hosting matches, with both teams having to agree to its use.
The ICC has only been able to insist on DRS usage in ICC-run tournaments, such as last year's World Cup.
Sri Lanka opted to use the technology during their home series against England in March, but not for the current series against Pakistan, prompting criticism from Pakistan coach Dav Whatmore.
India refused to allow it for last summer's series in England, in which they failed to win a Test or one-day international, and are expected to dismiss it again when they host England for four Tests, five ODIs and a Twenty20 international between November and January.
But Vaughan said: "I think it works wonderfully well around all the different formats. England, in particular [Test captain] Andrew Strauss, have got used to it and is very clever with it.
"It's there to get rid of the blunder. Over time it has proven to be a very, very good. India need to get with the real world and get on with it because they're ruining it.
"They are almost a little bit egotistical and saying 'you can't tell us what to do' and I think it's about time the ICC said 'you've got to listen to us because it's going to happen'.
"I think the ICC has to stamp down and say 'I'm afraid India it's going to be mandatory, the DRS will be in place for every single series that you play in, get on with it.'"