Ireland and Scotland to get extra ICC funding
Last updated on .From the section Cricket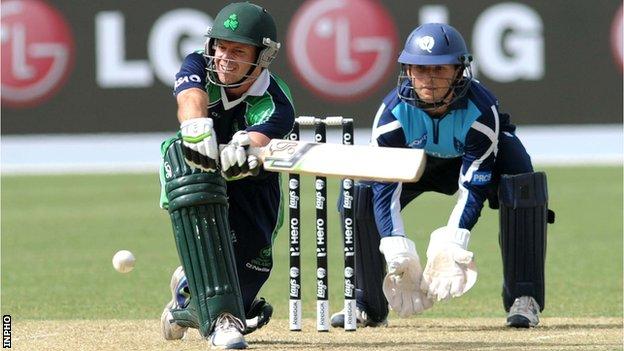 Cricket's governing bodies in Ireland and Scotland are to get around £320,000 a year each in additional funding from the International Cricket Council.
The grants are aimed at developing greater competition beneath the full member nations.
Ireland's deal lasts until 2015, with chief executive Warren Deutrom keen to find the best way to put it to use.
"We are grateful to the ICC for this award which will help us achieve our stated objectives," he said.
"We shall be exploring in greater detail the award and terms of the grant with ICC management in order to ascertain how to prioritise the funding towards the proposals that we outlined in our applications."
The ICC executive board decided to allocate the extra money for Ireland and Scotland under the Targeted Assistance and Performance Programme.
Scotland, whose funding also lasts for the next three seasons, intend to use the money to help get more high-profile matches against the top international sides.
Their chief executive Roddy Smith said: "The additional support will enable us to enhance our national team programme over the next three years and support our young developing side in continuing their recent progress."
There was a further boost for the Saltires, who have been given dispensation to field non-Scotland born players who have parents from the country without the four-year qualification period.
"The issue has been a prominent one for a number of years and we welcome the decision to allow players with Scottish parentage to be able to apply to the ICC for exceptional circumstances," added Smith.