England-Australia series will show progress - James Anderson
Last updated on .From the section Cricket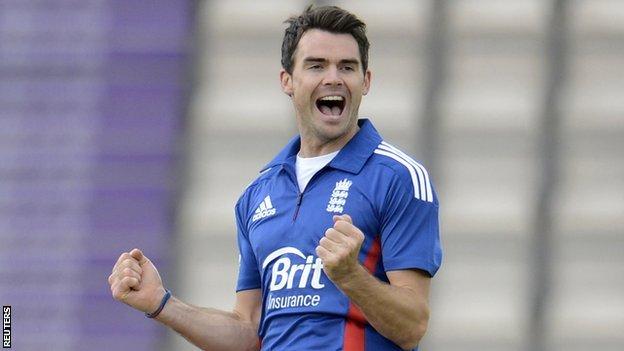 James Anderson believes the upcoming five-match series against Australia will show how far England have progressed as a one-day side.
"We always hate losing to them and they're the number one one-day side in the world at the moment.
"It's a really good test for us because we've been playing some really good one-day cricket in England."
The first match takes place at Lord's on Friday and the series ends at Old Trafford, Anderson's home ground, on 10 July.
England have won each of their last six one-day series at home, a run that stretches back to 2009, when Australia cruised to a 6-1 victory following their Ashes defeat.
Anderson, who is 23 wickets away from surpassing Darren Gough as England's leading one-day wicket taker, is currently in the middle of his benefit year at Lancashire.
"It can be difficult and a very busy year when you've got a lot of events on and you've also got to fit some cricket in around that," he said.
"I spoke to a lot of guys who have had them in previous years and tried to work out how to get the right balance. My main priority is my cricket and I don't want to let anything get in the way of that.
"I've managed to separate the two as much as I can. Once I'm at the cricket ground, I'm fully-focused on what my job is there."
The Burnley-born fast bowler is celebrating a decade with the Red Rose, although his international commitments have often restricted the amount of cricket he has played for his home county.
"Although I've not played for Lancashire as much as I would have liked, they've still been really supportive of me," added Anderson.
"If ever I've needed to have a bowl, they've always helped me out so I've got a lot to thank them for.
"Seeing them win the Championship last year was just amazing. I was listening to it on the radio and following it on the internet as well. It was really nerve-wracking.
"It was fantastic that we managed to come through in the end and it was very pleasing for Glen Chapple. He's given the county 20 years of service and, as captain, I think he's done a fantastic job."