Australia's Shane Watson keen to use ODIs as Ashes preparation
Last updated on .From the section Cricket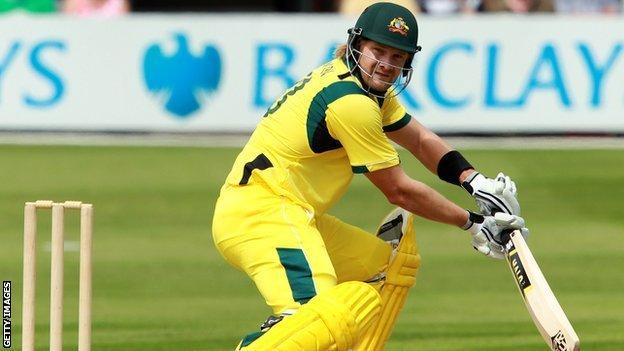 Australia vice-captain Shane Watson says the tourists will use the one-day international series against England as preparation for next summer's Ashes.
"We can learn about the cricket we need to play to beat England here," he said.
"Now is a time to be able to put some things in place so we can have success when we come back here for the Ashes."
Watson was part of the Australia team beaten in England in 2009 and on home soil in 2010-11, and admits that he is desperate to end that losing streak in 2013.
"After being involved in two Ashes losses now, it is a burning desire inside me to be a part of a successful Ashes series," the all-rounder said.
"Any time you play against England, you want success. It is the ultimate rivalry and the ultimate challenge for an Australian cricketer, to play against England and win."
The experienced Brett Lee, 35, leads the Australia attack in the one-day series, backed up by young pace bowlers James Pattinson, 22, and Pat Cummins, 19.
All three are capable of bowling 90 miles an hour and Watson thinks England may struggle against the pace of the trio.
"Pat Cummins is a very highly skilled young man. No doubt he will be a handful, especially for the English who haven't seen him much. That will be a nice little wildcard for us," he said.
However, Watson says Pattinson and Cummins need to follow the example of Lee if they are to thrive in English conditions.
"The wickets are probably going to be very flat and the outfields fast so we are going to have to bowl well to get on top of the England batting line-up," he said.
"Brett Lee's experience and his quality as a bowler are very important. The two others haven't played in England at all so Brett is going to be a hugely important part of our bowling line-up. I think he will have a big impact on how our success goes in this series."
England are likely to select five specialist bowlers in the first game at Lord's, with Tim Bresnan batting at number seven, and Watson thinks Alastair Cook's side may be vulnerable if the Australia bowlers take early top-order wickets.
"For England to be able to go in with four frontline quick bowlers is a very good thing for them against our batting line-up - but if we are able to make inroads into their batting early they may be one short," Watson said.
"We know if we are able to make inroads it may expose a part of the England team that hasn't been exposed."