Northants captain Andrew Hall hopes for T20 turn-around
Last updated on .From the section Cricket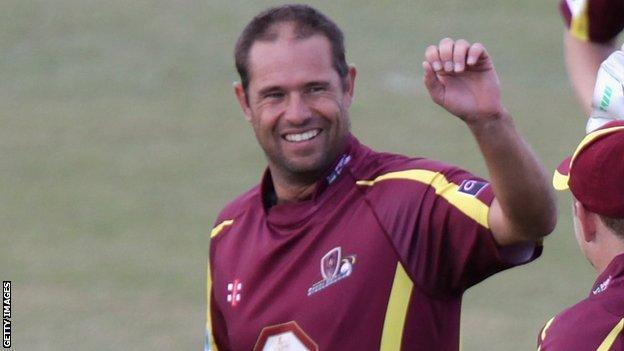 Andrew Hall has challenged Northants Steelbacks to rediscover the 'winning habit' now their hopes of a Twenty20 quarter-final place look remote.
They are bottom of their group after failing to win any of their six games.
All-rounder Hall told BBC Northampton: "The guys can go out and play with no regrets, because we know it's highly unlikely we can make a quarter-final.
"We have to get ourselves back into a winning habit [to prepare for] the rest of the season."
The South African continued: "We saw what happened last season when we played exceptionally, then had a poor T20 and from there we didn't have that drive for the rest of the season.
"Guys have said 'play for pride' and things like that. I want to see the guys go out there and enjoy it.
"The other day against Somerset, it didn't look like the guys were enjoying it because we haven't put our best performance out there.
"Cameron White has been the mainstay of our batting, which is disappointing, because we've got all the other guys showing so much promise and still need to kick on."
Hall has been troubled by calf and back injuries this season which have left him "really frustrated", but he insisted: "I don't want to rush back again and then find myself with another niggle weeks down the line."
In his absence, 23-year-old Alex Wakely, a former captain of England Under 19s, has been leading the side and Hall said he had been impressed with the stand-in's leadership skills.
"Alex has done a really good job. He's come into a difficult situation and he's handled it well," Hall added.
"He's getting frustrated because he wants to win and see the guys do well and it hasn't gone that way.
"What we've said is for him to stay nice and calm and the guys will come through, but he's looked calm on the field and, afterwards, he's had a calm demeanour.
"He's definitely one for the future [as captain]."