Alastair Cook and Michael Clarke defend one-day series
Last updated on .From the section Cricket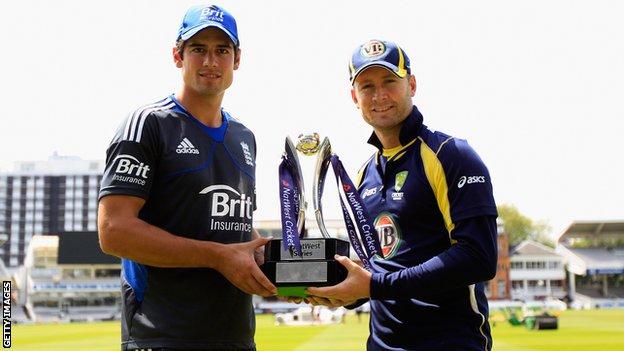 England captain Alastair Cook has defended his side's five-match one-day series against Australia, which gets under way at Lord's on Friday.
But Cook said: "There is something about playing Australia as an Englishman."
"It's an important series for both teams," added Australian counterpart Michael Clarke. "We're here to win."
The five-match series falls between tours by West Indies and South Africa, with Australia visiting their Ashes rivals solely for the one-day contest.
Australia return to England next year for the Ashes, and this will be Cook's first chance to face up-and-coming bowlers Pat Cummins and James Pattinson.
"It's a good tester for us as a one-day side in our conditions," said the batsman. "It seems to make sense in our development and planning towards the 2015 World Cup.
"I haven't faced them (Cummins and Pattinson) before. They've both done very well coming into international cricket, and Brett Lee's been around for a while.
"Let's not forget Mitchell Johnson and Ben Hilfenhaus, they've got a real battery.
"Similar to us, they can pick three or four (bowlers) out of six or seven, which is a strong place for squads to be in. We're happy with that in our set-up and I'm sure they are as well."
Australia, who are ranked number one in the world in the limited-overs format, drew their last ODI series 2-2 in the West Indies in March, shortly after losing five of their 11 games en route to winning their triangular series with Sri Lanka and India.
"Our one-day cricket over the last four months hasn't been as consistent as we would like as a team," said Clarke.
"We're playing against a team that's full of confidence in their own backyard. They've won their last six series here in England so we know we're going to have to be at our best.
"I think it's going to be a really good challenge for us and a good indicator to see where we're at in the shorter form of the game."
There is plenty at stake if England win the series 5-0, because they will replace Australia as the world's top one-day side and become the first country to be ranked number one in all formats of the game at the same time - something Clarke is keen to avoid.
"Our goal is to stay number one in the world in the one-day format and we need to play better cricket than we have done in the one-dayers," he said.
"I'd love to win all five one-dayers, but first and foremost I'd love to win the series.
"It's going to be great. Every game's been sold out, there's going to be plenty of people watching.
"There's been a fair bit of talk about it here in the UK so I think the fans are looking forward to seeing how these young fast bowlers in the Australian team go and how the experienced fast bowlers of the England attack go."