Stephen Moore column: Role playing to entertain

By Stephen Moore
Lancashire and England Lions batsman
Last updated on .From the section Cricket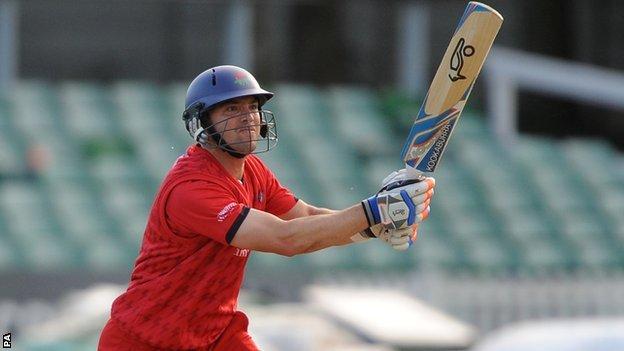 For the last three weeks and for the coming fortnight we have been and will be gorging ourselves on a feast of Twenty20 and one-day international cricket.
If Test and first-class matches present the professional cricketer with the ultimate physical and mental test, it is the limited over formats that allow you to let your hair down, have fun and really entertain the crowds, which tend to swell during the long summer evenings.
At the midway stage of this year's Friends Life t20 competition, we have found a little momentum and are joint-top of the North Group table with Yorkshire and Nottinghamshire.
It is going to be a competitive two weeks as we all vie for the opportunity to make it to finals day, and a potential trip to South Africa in October for the Champions League T20.
This international stage has helped turn what was a fun two-week extravaganza 10 years ago into a serious competition. Sides are investing what little cash they have in big overseas stars to improve their chances of qualification and the potential rewards thereafter.
This year we have Yasir Arafat in our side, and as the highest wicket-taker in English T20 cricket he is a fantastic addition, but I believe it is the consistent selection of English players in our squad that is reaping rewards.
This selection policy has allowed individuals in our side to identify with their role, put themselves under situational pressure in training, and ultimately own their position and love performing within it. It also brings the added benefit of clarifying for players on the fringe where they might fight for an opportunity to claim a coveted spot in the starting XI.
Understanding our roles has been an integral part of our squad ethos, and where England has found success and ultimately had its failures.
The Test side looks like a settled team, with players clear on their roles, and more importantly, very good at performing them. Controversial rotational policies aside, it is also very clear for the wealth of talented county cricketers where possible openings might arise. The same cannot be said of the England one-day team.
For a number of years now there has been talk of building for the next World Cup, but this has never materialised into a cohesive structure of picking the best players in the right positions and letting them own their role within the side.
It is no surprise that a world-class batsman like Alistair Cook can adapt to his role in both Test and 50-over cricket. His challenge now is to decide whether he wants to adapt his game further for T20, and if so where he might fit into the England side.
It is interesting to see that England will be without the explicitly effervescent, but an undoubted match winner in Kevin Pietersen for limited over cricket. At Lancashire our 40-over and 20-over sides mirror each other, something that the other top one-day counties like Somerset and Surrey also seem to do.
Evidently England are taking a different approach with none of the top three batsmen in 50 overs; Cook, Bell, or Trott, making the 20-over team. This would suggest treating them as two contrasting forms of the game, but at least in policy they seem to be perpetually linked.
England have played some good limited overs cricket of late, and I look forward to seeing them test themselves against Australia.
There is no doubting the wealth of talent that English cricket currently enjoys, and it will be great for us as a side over the next few weeks to showcase some of that as we set ourselves up for the chance to spend an autumn in Camps Bay, Ballito, or Sandton.
Those are the rewards on offer, and given the current state of the weather, there are fewer better thoughts than some sun drenched cricket in Africa.
This is my last column in its present form. Instead, over the next couple of weeks I'll be inviting your questions on the county game through the BBC Sport website and attempting to answer some of them.
You can follow Stephen Moore on Twitter at: http://twitter.com/stephen_moore6 (external site)