Alec Stewart column: England should go for Australia jugular

By Alec Stewart
Former England captain and BBC Radio 5 live summariser
Last updated on .From the section Cricket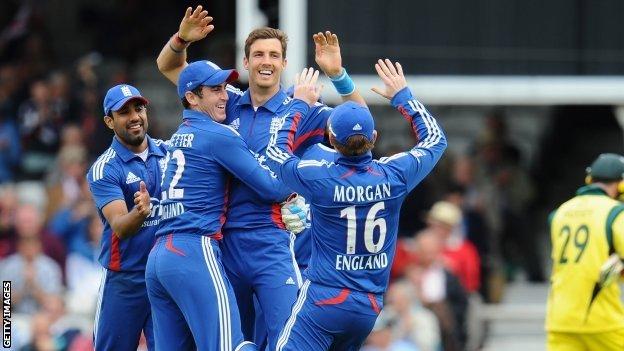 Having expressed my doubts over whether the series should be taking place at the expense of an extra Test against South Africa, I have thoroughly enjoyed seeing England get the better of their old enemy Australia.
They have won the first two one-day internationals convincingly and have not looked in trouble at any stage, even when conditions were very difficult for batting in between the rain delays at Lord's.
If England win the third match at Edgbaston on Wednesday, the series will be in the bag and the selectors will have the option of going for the jugular to nail it 5-0, or to rest some of their established players and give some of those on the fringes a chance as they did in the final Test against the West Indies.
I would like to see them continue to pick their strongest side because it's not often you get an opportunity to whitewash Australia and hopefully England can make a habit of it over the next few years.
A 5-0 victory would also send England to the top of the one-day rankings to match what they have achieved in the Test and Twenty20 formats.
It would be great to see us reach the summit in all forms of the game but I can't understand how the International Cricket Council's rankings work.
How can we go from fourth to first place in the space of a single series? You will have to ask the ICC that. Only last year we were knocked out of the World Cup in the quarter-finals and lost a series 5-0 in India.
Whatever the rankings say, winning matches and winning series is most important and England are starting to make a good habit of that.
The bowling has been very consistent in both matches, but the key to the Lord's victory was Eoin Morgan's magical innings, which transformed England's total from a competitive one to a match-winning one.
At The Oval, Ian Bell once again underlined his class after his recent recall to the one-day side, while Ravi Bopara produced an excellent knock that will have done his chances of playing against South Africa in the Test series no harm at all.
Alastair Cook's captaincy goes from strength to strength. He looks very comfortable as the leader of the pack and is being very proactive in his decision-making.
England are on a great run of eight straight wins but this must be used as a launch pad for sustained success in this form of the game.
The hosts' chances of a series win can only have been enhanced by Australia losing 19-year-old fast bowler Pat Cummins to a side strain.
From the little bit I saw of him at Lord's he looked a very impressive young bowler. He is a strong lad, with good pace and a smooth action and I'm sure that, providing he can shake off his injury problems, we will be seeing a lot of him in the back-to-back Ashes series next year.
At the other end of the career spectrum, Brett Lee is proving yet again that the age factor doesn't affect good players. He is a high-quality performer and he has entertained with the bat too, which is always enjoyable to watch.
The has not lived up to the hype coming from down under before the series, while their batting has looked light after Mike Hussey withdrew because of the premature birth of his fourth child.
We have seen David Warner, Shane Watson and George Bailey make fifties but not one of them has gone on to post the kind of score that really hurts the opposition.
Michael Clarke is leading an inexperienced team that is still trying to find the right balance, but you never want to write an Australia side off in any form of sport. They are a very proud nation, they are highly competitive and they will be keen to bounce back.
Whether they are allowed to come back in this series we will discover over the next three games. But at the moment England are playing by far the better cricket and they are not allowing the Australians to show what they are capable of. As an Englishman, long may that continue.