Northants part company with coach David Capel
Last updated on .From the section Cricket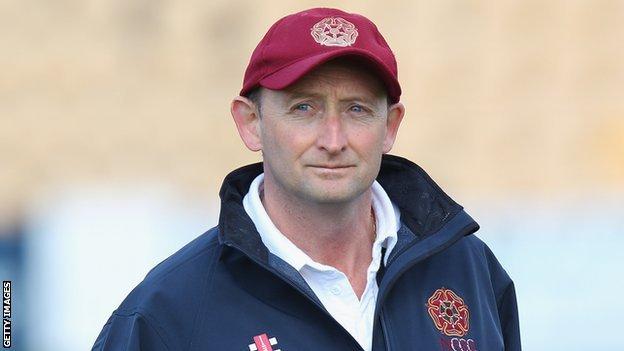 Northants have parted company with head coach David Capel, ending his 33-year association with the county.
His departure from Wantage Road comes towards the end of a Twenty20 campaign in which Northants have one win.
Chief executive David Smith told BBC Northampton: "We felt the time was right to freshen things up.
"Clearly, we're not where we wanted to be in Twenty20 but, ultimately, every coach has his shelf-life in the modern day game."
He added: "The nature of David Capel's contract required us to make a decision well before the end of the season." .
Capel said: "I am naturally very disappointed at this decision, but can look back with pride at my achievements at Northamptonshire.
"I am looking forward to moving on and continuing my career in first class cricket at another county."
Both Smith and club chairman Martin Lawrence have thanked Capel for his service to the county.
"We wish David all the best," said Smith. "He's been at the club for a long time and he leaves with his head held high. He has the total respect of everyone at this club.
"But in professional sport, nothing lasts forever."
The Steelbacks have won just four one-day matches from 37 since the start of the T20 campaign last year.
Capel led Northants to the 2009 T20 finals day but they remain a County Championship Division Two side, currently fourth in the table.
"Our white ball cricket has been disappointing and we hope to finish the season strongly. We've got players capable of doing that," said Smith.
"Once County Championship cricket comes round again, confidence starts to grow and we know we are a pretty decent four-day cricket team."
"But Twenty20 is critical for us. In order to get the public involved [watching games], we've got to win games and be competitive."
Second XI coach and academy director David Ripley will take over as interim head coach whilst Phil Rowe will take over in the interim in Ripley's former positions.
"We feel that's good continuity, but it gives us a freshness of approach and we'll assess as we go along the requirements the club have [of a full-time head coach].
"I'm expecting that, over the next week or so, we'll have considerable interest."
Capel was born in Northampton and joined the Northamptonshire staff as a 16-year-old in 1979.
He made his first-class debut two years later and played for the county until 1998, also making 15 Test and 23 ODI appearances for England.
After his retirement from playing he took on a development role, working with the club's up-and-coming and academy cricketers. He succeeded Kepler Wessels in charge of the first team when Wessels departed midway through the 2006 season.