Welsh Dragons urge Twenty20 domestic schedule rethink
Last updated on .From the section Cricket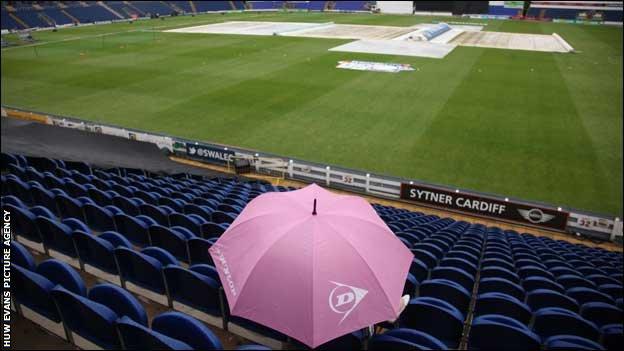 The England and Wales Cricket Board has been urged to consider extending the Twenty20 Cup to a 10-week tournament to protect against the weather "lottery".
Glamorgan chief executive Alan Hamer hopes the ECB can "learn lessons" from this summer and make changes.
"From a financial position it is not good news," said Hamer.
He added: "The Morgan review of English cricket suggested playing Twenty20 games over maybe a 10-week period and having one game a week.
"The down side is you wouldn't be able to attract big names like our overseas signing Shaun Marsh for that length of time.
"But counties need to have sustainable businesses and more chief executives will look at having 10 games over a longer period as the law of averages would suggest that a majority would not be affected by a month of bad weather.
"This isn't the first summer where the weather has been poor and I think the ECB need to take consideration of playing games over an extended period of time.
"Maybe some lessons might be learned from this year as to how this tournament is played in future years.
"I don't think it will change next year because it is too late but certainly for 2014 I think there will be a groundswell of opinion from counties that they need to do something a bit different - how you attract the stars is the downside."
The ECB is still considering the recommendations contained in David Morgan's review and conducting its own market research into the domestic game. A report will be presented to the ECB board in the autumn for further discussion.
Glamorgan, who will play their Twenty20 games within a four-week period under the new name of Welsh Dragons, invested relatively heavily in their Twenty20 squad with the aim of qualifying for the tournament's quarter-finals for the first time since 2008.
The Swalec Stadium side signed Australian Twenty20 specialist batsman Marsh and experienced South African Martin van Jaarsveld to bolster an already strong looking batting line-up.
But the Dragons have suffered a "disjointed" campaign with half of their eight matches cancelled - earning them just one point per washout - while Jim Allenby's men won one rain-affected game thanks to the Duckworth-Lewis method.
Hamer accepts their Twenty20 campaign has been a "nightmare" but insisted their one win record in this form of the game is "not a true reflection" of their side.
"The weather is something we can't control," added Hamer.
"Although we tend to get more rain this side of the UK. This is the seventh game in our group that has been rained off while there has been three in the north group and two in the south.
"I'm a big supporter of us playing Twenty20 games on the best nights of the week.
"I'm sure if we played our five home games every other Friday, we would get bigger attendances as to play three games in a week is demanding on people's time as well as their money."