Essex chief admits corruption case damaged club
Last updated on .From the section Cricket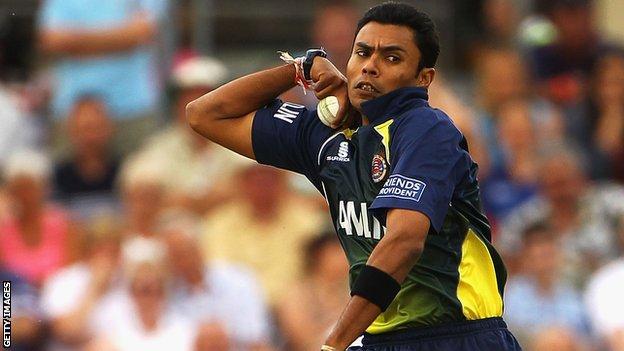 Essex chief executive David East has admitted the corruption scandal involving Danish Kaneria and Mervyn Westfield "drained" the entire club.
Last month Pakistan leg-spinner Kaneria, 31, was banned from playing in England and Wales for life.
Seam bowler Westfield, 24, was banned for five years, but can play club cricket again after three.
"It's probably the most difficult thing I've ever had to deal with," East said in an interview with BBC Essex.
"It drained the whole club in terms of the pressure it put on us and it's something I wouldn't wish to go through again."
A CB40 game between Essex and Durham in 2009 was at the centre of the case and Westfield was jailed for four months in February for taking money for deliberately bowling badly.
At last month's inquiry by the England and Wales Cricket Board, he pleaded guilty to accepting money to underperform and Kaneria was found guilty of corruption.
Neither has played county cricket since 2010.
The ECB disciplinary panel concluded that Kaneria:
• acted as a recruiter of spot-fixers
• approached a number of Essex players he saw as potential targets
• cajoled and pressurised Westfield into becoming involved, knowing he was young and vulnerable
• was present when Westfield received his payment for underperforming.
Kaneria continues to protest his innocence and is considering an appeal against his sentence, which the International Cricket Council (ICC) has recommended should be implemented worldwide.
East declined to comment on Kaneria, but said it was very difficult for him to be sympathetic to Westfield because he had "caused the club so much discomfort and for a certain period of time tarnished the reputation of the club".
He continued: "I can understand why it happened, certainly. Whether I can feel sympathetic towards him, I'd need to reflect on that a bit more.
"I think it's hugely disappointing that one of our own, that came through the system, who we nurtured, played for England Under-19s - we had high hopes for Mervyn in his career and for it to be ended or at least be curtailed in this way is very sad."
East praised the bravery of another seam bowler, Tony Palladino, 28, for giving the evidence which led to the police investigation.
Palladino left the club at the end of the 2010 season and now plays for Derbyshire.
"It was a very difficult decision for him, I'm sure, but it's something I think we should be proud of. Tony raised that issue and all credit to him," said East.
"Post the ECB hearing it's become evident that the club wasn't at fault and nor were the players in terms of the way they reported it.
"I do hope that message has got across."