Mark Ramprakash: Why natural ability did not transfer to Test runs
By Sam Sheringham & Stephan Shemilt
BBC Sport
Last updated on .From the section Cricket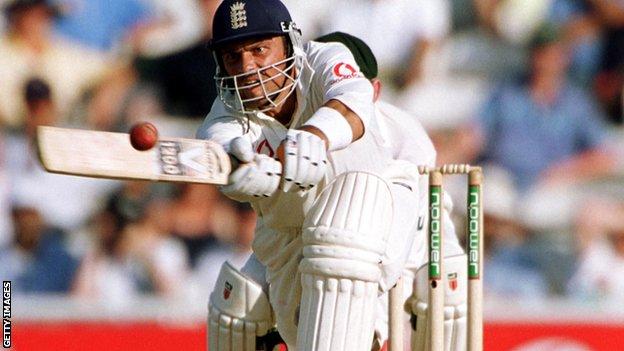 It remains one of the great enigmas of English cricket - why Mark Ramprakash, who is set to close the curtain on one of the most successful county batting careers the game has seen, never really cut it for England.
A batsman oozing class and natural ability, Ramprakash bows out with an incredible 35,659 first-class runs at an average of 53.14, including 114 centuries.
In 52 Tests over 11 years, however, he scored only two hundreds and averaged a paltry 27.32.
"The best compliment I can give him is that he's the best technician the English game has had in the past 20 years," former England captain Michael Vaughan told BBC Sport.
"He had the best movements at crease. Unfortunately he couldn't mentally get it right in the international game."
It is one of the quirks of English cricket that Ramprakash made his debut in the same Test as Graeme Hick, another prolific domestic batsman who struggled to reproduce his best for England.
Facing a West Indies attack comprising Malcolm Marshall, Curtly Ambrose, Courtney Walsh and Patrick Patterson, Ramprakash consistently made a solid start but did not post a score higher than 27 in the entire series.
The pattern would continue as Ramprakash, often batting as if paralysed by his own desire to succeed and bearing no resemblance to the man who had butchered county attacks, took 16 innings to make a fifty and 38 innings over seven years to finally reach three figures.
"When he first got in the England side, he had some outstanding attacks to face," said Vaughan. "I remember watching it and seeing him regularly get starts, 20s, but no more.
"Unfortunately, he had a bad start and was almost chasing after that. And, when he came to play against a side where you'd expect him to get a lot of runs, he probably put himself under too much pressure."
Such was his talent, Ramprakash was given plenty of chances to redeem himself, frequently forcing his way back into a struggling national team through sheer weight of runs in the county game.
An anomaly for England batsmen at the time, Ramprakash managed to save his best for the Ashes, averaging 42 against Australia.
Indeed, in his last Test in England, Ramprakash scored 133 at The Oval, but this came when the Ashes had been lost, the pressure having lifted.
When England were battling to stay in the series in the third Test at Trent Bridge, Ramprakash's mental frailties were exposed by Australia leg-spinner Shane Warne, the expert sledger talking his prey into being stumped by almost half the track. Failure followed by moderate success - it was Ramprakash's Test career in microcosm.
A run of low scores on the subsequent tours of India and New Zealand caused Ramprakash to be jettisoned by Nasser Hussain and Duncan Fletcher as England embarked on a new era of central contracts and a more consistent selection policy.
Players like Ian Bell were identified as Test players at a young age and given several series to establish themselves in the side.
Alec Stewart, an England team-mate for most of Ramprakash's career, believes Ramprakash would have benefited from knowing he had the faith of the selectors.
"He's the best domestic player since Graham Gooch - and his stats underline that," said Stewart. "For such a fine player whose ability and talent I hugely admired it's just a pity he could not show it on the international stage.
"If he played with today's set-up of central contracts, of understanding selectors and a more consistent selection policy he would be averaging in excess of fifty in Test cricket. He is that good a player.
"It was partly a mental thing so he has to take some responsibility for that, but it was also the set-up. He was dropped so many times, there was no stability.
"You could say that was an excuse, but I'll say it was a fact and if you don't feel at home in an environment or you don't always feel wanted, it can affect you and you are not going to show your true colours."
Ramprakash remained a phenomenon in county cricket, passing 2,000 runs and averaging more than 100 in the 2006 and 2007 seasons for Surrey.
In 2008, he became only the 25th player in history to score 100 first-class centuries and, with limited-overs matches gradually taking over the modern game, he may well be the last.
The following year, with England searching for a batsman for the decisive final Ashes Test, Ramprakash was widely championed for a recall.
Instead, the selectors plumped for Jonathan Trott, a player with infinitely less style than Ramprakash, but with a level of mental strength that always seemed to elude the Surrey man when it really mattered most.
"He just didn't deliver, that is the bare fact," said Vaughan. "But if he'd played in the last five years, in the environment that England have now, on modern batsman-friendly pitches, he'd have been fine."