Sussex coach Mark Robinson thrilled by FL t20 progress
Last updated on .From the section Cricket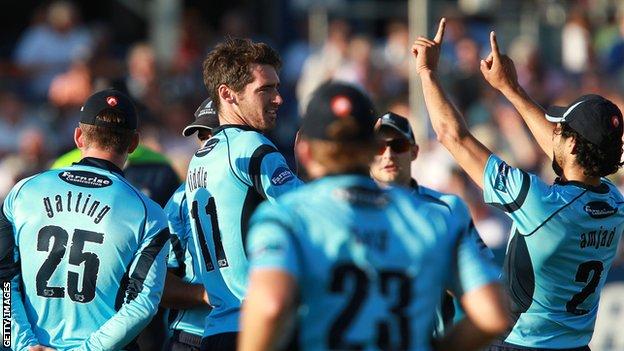 Sussex cricket manager Mark Robinson says his side deserve the plaudits after moving into the quarter-finals of the FL t20 competition.
He told BBC Sussex: "We managed to get on a run and get some momentum. We've played with freedom and the batters have really expressed themselves.
"We've taken some excellent catches and the captain [Mike Yardy] has led by example and deserves a lot of credit."
Sussex, who are unbeaten in the competition, have continued their fine record in the short-form game with progress from the South Group.
Winners in 2009, they have made it through the group stage in five of the past six seasons.
"Skill-wise, you work on it all year round," Robinson continued. "Modern cricketers now have to be the masters of so many skills.
"We have in recent years done really well in the shorter form of the game but you try and make sure it's not to the detriment of the longer form.
"As squads evolve, you get certain players who feature in only one form of the game.
"Chris Liddle has come in and done really, really well and Will Beer has managed to get more pace on the ball and has come into the one-day team.
"Twenty20 is a hard game to play and some of the reactions can be over the top when you do badly or do it well.
"Trying to keep the players' feet on the ground is one of the most important things to do and one of the hardest [things]."
Robinson is now eager to guarantee a home quarter-final tie by finishing top of the South Group.
"You've got control of the surface you play on, you play in front of your own fans and you've got all your home comforts and facilities," he continued.
"It's well documented that it's been a tough year for a lot of businesses and the weather has hit us hard.
"It would give the chairman and the chief executive a bit of an extra pay-day."