England v South Africa: The best of enemies
By Stephan Shemilt
BBC Sport
Last updated on .From the section Cricket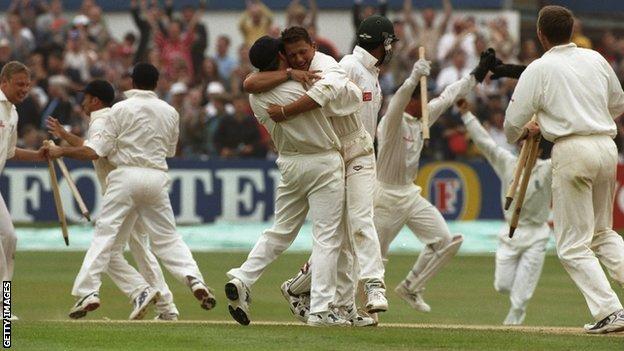 While Australia will always remain England's biggest rivals, their recent series against South Africa have been just as closely contested.
BBC Sport takes a look at the Proteas' visits to England since their return to international cricket in 1991.
1994: England 1-1 South Africa
Three years after being readmitted by the International Cricket Council, South Africa toured England for the first time since 1965. The Proteas announced their return with a crushing victory at Lord's, with captain Kepler Wessels getting a century. After a draw at Headingley, a Devon Malcolm-inspired England squared the series at The Oval.
"You guys are history"
Mercurial fast bowler Malcolm had been recalled for the final Test but managed only 1-81 in South Africa's first innings. When he came out to bat, he was hit on the head by a Fanie de Villiers bouncer and, as the tourists' slip cordon chuckled, he turned and told them "you guys are history". Malcolm, bowling with extreme pace, tore through the South Africa batting in the second innings, taking 9-57, the fourth-best haul by an England bowler.
Dirt in the pocket
TV pictures showed captain Michael Atherton rubbing dirt onto the ball during the third day of the first Test. Atherton said the dirt was to keep his hands and the ball dry, but failed to tell match referee Peter Burge that he used the dirt on the ball. He was eventually fined £2,000 but resisted calls to resign.
What they said
"I have never used any substance to either polish the ball falsely or deteriorate the condition of the other side of the ball." Mike Atherton
"It must be their ball, because ours is doing **** all!" Graham Gooch's initial reaction to the ball-tampering controversy
"I came into bat and I heard one of the guys say 'let him have one'. I thought it was a bluff and was expecting a yorker but Fanie bowled the perfect bouncer at my head. That's when I waved my bat at the slips and I said: 'You guys are history'." Devon Malcolm
1998: England 2-1 South Africa
South Africa, led by Hansie Cronje, got away with a draw in the first Test at Edgbaston, but destroyed the hosts at Lord's. The tourists looked set for a 2-0 lead at Old Trafford, only to be denied by last-wicket pair Angus Fraser and Robert Croft. The momentum having shifted, Fraser bowled Alec Stewart's side to wins at Trent Bridge and Headingley to give England their first victory in a five-Test series since the 1986-87 Ashes.
Atherton v Donald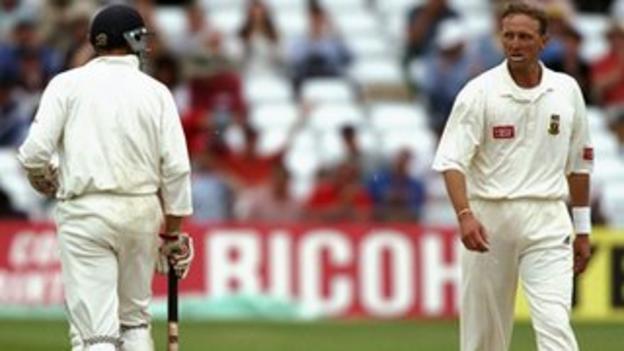 While Fraser's 24 wickets were a huge factor in England's win, the series will be best remembered for the duel between England opener Atherton and South Africa fast bowler Allan Donald. Atherton had scored a century in the drawn first Test and made 89 in England's rearguard during the third, but it was his 98 not out in the fourth that was most crucial. On the fourth evening at Trent Bridge, after Atherton had been given not out having gloved the ball behind, Donald served up a barrage of short bowling from around the wicket at lightning pace. The drama was enhanced by Donald's verbal attack and the batsman's refusal to take a backward step. Ultimately, Atherton survived, and England squared the series.
What they said
"Much has been written of my joust with Donald: some negative things, of umpiring decisions, of batsmen not walking, and sledging. Every person, however, that I've spoken to has seen it in a positive light and said it was some of the most compelling cricket they have seen. Enough said." Mike Atherton
"I was just trying to get him out. I was focused on trying to knock him over and at the same time trying to not let him off the hook and score quick runs. That was absolutely special and I wish more of those sort of things would happen. One on ones with two guys giving it their all for their country." Allan Donald
2003: England 2-2 South Africa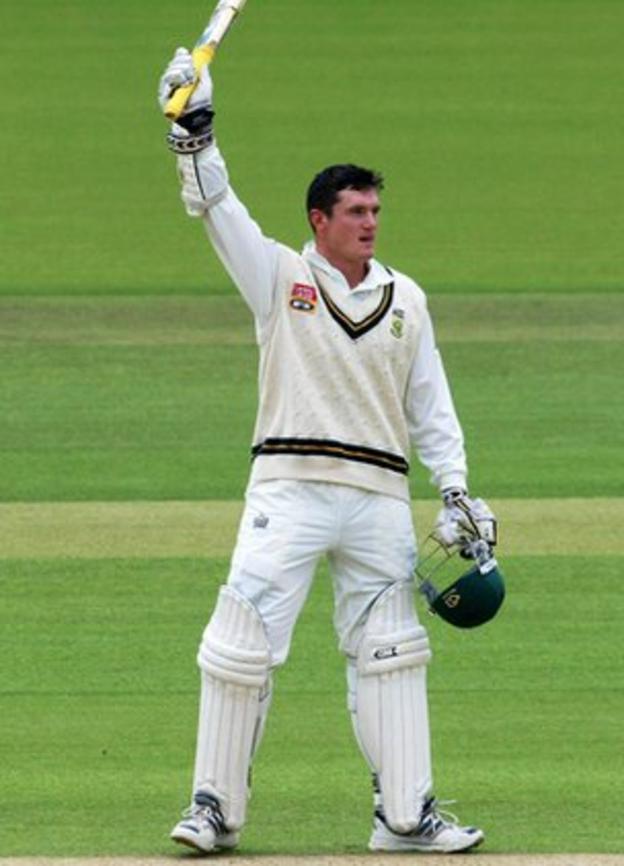 Graeme Smith, the 22-year-old South Africa captain, hit a double century in the drawn first Test to end Nasser Hussain's reign as England captain, then repeated the dose at Lord's to defeat Michael Vaughan in his first game at the helm. A Hussain hundred and the wickets of James Kirtley drew the hosts level at Trent Bridge, only for Gary Kirsten and Jacques Kallis to combine to restore the Proteas' lead at Headingley. A humdinger of a series ended at The Oval, where Marcus Trescothick and the returning Graham Thorpe helped England take a share of the spoils in what was Stewart's final Test match.
Don't call me Greg
Perhaps in an attempt to unsettle his younger counterpart before the first Test, Hussain referred to Smith as "what's his name" in a press conference and then introduced him to the match referee as "Greg". Smith's response was 277 in the Edgbaston draw and Hussain resigned saying the South Africa skipper had made him feel old.
Old warriors, new heroes
On taking over the captaincy, Vaughan identified the likes of Andrew Flintoff and Stephen Harmison as players he could build his team around. They responded - Flintoff hitting 423 runs during the five Tests and Harmison taking crucial wickets in the final Test. But it was also the return of the veteran Thorpe after a year out of the side because of personal problems that boosted the home side. His 124 in a stand of 268 with Trescothick got England back in the game after South Africa posted 484.
What they said
"It's not the sort of job where you just take the cash and plod on and stand at mid-off. I've always felt it's the sort of job where you have to give it everything. It's time for change." Nasser Hussain
"Most people would love to get a century on their home ground, but to be out for a year I'm sure there was a bit of divine intervention." Graham Thorpe
"I honestly don't know how we drew." Michael Vaughan
2008: England 1-2 South Africa
After the tourists batted for an eternity to earn a draw at Lord's, England, including Darren Pattinson, were hammered at Headingley. Setting the Proteas 281 to win the third Test at Edgbaston, England looked likely to level, only for Smith's unbeaten 154 to hand his side the series, with Vaughan's tearful resignation following. Kevin Pietersen was appointed skipper, and his century in what turned out to be his only Test as captain in England helped the hosts to a consolation win in the fourth Test.
Smith strikes again
Five years after hastening Vaughan's ascent to the England captaincy, Smith played decisive innings in the Yorkshire batsman's last series as skipper. Vaughan maintains he was resigning at the end of the series regardless and Smith needed the rub of the green with some umpiring decisions, but the fact remains that the left-hander has starred in the last act of the reigns of two England leaders.
Darren who?
Pace bowler Pattinson was born in Grimsby, but spent almost all his life in Australia. While working as a roofer, success in club cricket resulted in a call-up by Victoria and he was subsequently recommended to Nottinghamshire. Qualified to play for England by birth, his selection still caused controversy, with Matthew Hoggard saying he thought Pattinson was Australian. Headingley was to be his only Test, while his brother James now plays for Australia.
What they said
"I wouldn't have picked me to play for England." Darren Pattinson
"I've put my heart and soul into the job but my head is telling me to pack it in." Michael Vaughan resigns as England captain
"I don't take any pleasure from the fact Michael has resigned." Graeme Smith
"I don't think I would be sitting here today if I wasn't 100% confident that everything is going to be perfectly fine." Kevin Pietersen on his relationship with coach Peter Moores after being appointed captain. Three Tests later, both were gone.