Danish Kaneria ban recognised by Pakistan Cricket Board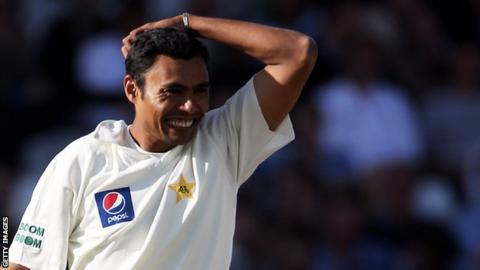 The Pakistan Cricket Board has suspended Danish Kaneria from playing in his home country while he appeals against his life ban.
The spinner was banned by the England and Wales Cricket Board in June after encouraging former Essex team-mate Mervyn Westfield to spot-fix.
Other cricketing nations had agreed in principle to the ban.
The PCB was "bound to recognise, respect and enforce the ban," it said in a statement.
"It was also brought to the knowledge of the committee that Mr Kaneria intends to appeal against the decision of the Cricket Discipline Commission.
"Until the matter is finally concluded by the ECB's appeal panel, the Integrity Committee decided that Mr Kaneria will not be eligible to play any cricket match, or participate in any cricket event/activity in Pakistan."
Westfield was jailed for four months in February for deliberately bowling badly in a CB40 game against Durham in 2009, and was given a five-year domestic ban.
During Westfield's trial, Judge Anthony Morris said the scam had been orchestrated by Kaneria, who spent six seasons at Essex from 2004.
But Kaneria, who played 61 Tests and 18 one-day internationals between 2000 and 2010, was never charged by the police on the grounds of insufficient evidence.
Both players were charged by the ECB in April for "alleged breaches of the ECB's anti-corruption directives".