Glamorgan chief executive reveals cost of T20 washout
Last updated on .From the section Cricket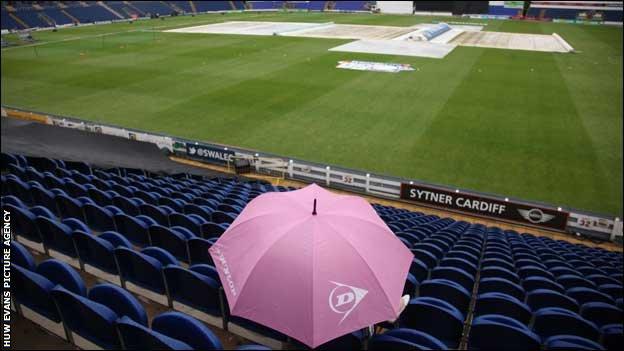 Glamorgan chief executive Alan Hamer estimates the county have suffered a six-figure loss because of the summer's poor weather.
The lucrative FL t20 season was badly affected, with Glamorgan the worst hit of the 18 teams.
The Welsh Dragons, as Glamorgan are also called, lost five of their 10 matches to rain, three of those were home fixtures.
"Cricket has been very badly affected by the rain," Hamer said.
"Over the past six weeks revenues have fallen well below budget because we haven't been able to get games on.
"Cricket is effectively a tourism industry and when it rains, you don't play and the people don't come.
"You don't get ticket sales and, just as importantly, you lose out on secondary spends in the club shops and bars.
"I would suggest over a season with this poor weather, you're looking at a six-figure hit."
The Glamorgan chief executive had previously said he hoped the England and Wales Cricket Board would "learn lessons" from this summer and make changes.
Hamer said the ECB should consider extending the Twenty20 to a 10-week tournament to protect against the weather "lottery" that has wrecked this season's competition.
The rain-affected Twenty20 campaign deal a further financial blow to Glamorgan.
In January the Welsh county announced they had restructured their finances to try to reduce their debt and secure the club's future.
The following month Glamorgan revealed they had made a loss of £1.7m for 2011 including a £1.2m loss from the England v Sri Lanka Test match.
Insurance is available for counties against lost income in the event of bad weather but the cost of such policies is rising and likely to increase following this year's bad weather.
Counties do not typically insure all matches with priority given to major fixtures and local derbies in an attempt to ease the outgoings.
Hamer added insuring games could only cushion the blow to a certain extent.
"You can insure, and we have done so, but clearly there is a cost-benefit in terms of premiums," he said.
"We insure key matches so our financial loss is minimised but we are a cricket club and it is important that we play cricket.
"If you don't play, you still incur running costs such as staff. The effects going forward can also be substantial
"For Twenty20 you can get a lot of casual customers and if their first experience is a bad one, they won't come back. You can't insure against that.
"Premiums have also increased significantly over the last couple of years - this isn't the first season we've had bad bad weather - and heaven knows what they will be next year.
It could cost a five-figure sum to insure one game."