Alec Stewart column: Mark Boucher's retirement 'cruel'

By Alec Stewart
Former England captain and BBC Radio 5 live summariser
Last updated on .From the section Cricket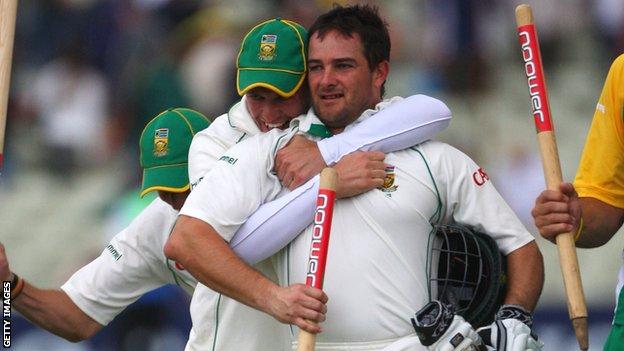 When any sportsperson is forced to retire ahead of their time it is sad, but the sudden and serious nature of Mark Boucher's injury is particularly cruel and distressing.
First and foremost we have to hope that he gets his sight back in the affected eye and makes as full a recovery as possible.
From a cricketing point of view, Mark will be renowned around the world as a fine servant to the international game. Along with Graeme Smith, Jacques Kallis, and Shaun Pollock he has been at the heart of the South Africa team since they came back into international cricket.
You don't stay in a side like South Africa if you are not a top-class player. His glovework was excellent and he was a great fighter with the bat. He scored valuable runs and used to get South Africa out of trouble on numerous occasions coming in at number seven.
I first played against Boucher when South Africa toured here in 1998. His greatest attribute was his competitive nature: day in day out he never let his side down.
He took some spectacular catches to the likes of Allan Donald and Shaun Pollock but generally went about his business in a very uncomplicated way. You hardly noticed him, which is the greatest compliment you can pay to a wicketkeeper.
The fact that he kept himself fit, and retained his competitive edge to play Test cricket for 14 years is phenomenal. That doesn't happen just by luck, it happens through hard work and a lot of skill.
This was all set to be a big tour for Boucher. He was planning to bow out after playing his 150th Test against England at Lord's, knowing that his team had a chance to go to number one in the world.
To me, he is a huge loss to South Africa because of the experience he brings. You need a certain skill and experience over here because of how the ball behaves as much after passing the stumps as in front of it.
It means AB de Villiers will keep wicket in the first Test but there's a chance it could affect his batting as he has only performed both roles in Test cricket three times before. With De Villiers behind the stumps the tourists will also be deprived of one of its best fielders.
As a fellow member of the wicketkeeper's union, I can identify with what happened to Mark, but it really was a freak occurrence. I can only remember it happening once when England and Middlesex wicketkeeper Paul Downton was forced to retire in 1990.
The closest I came to a serious injury behind the stumps was at Surrey when Ian Salisbury bowled a googly, which the batsman didn't pick. It hit the top of his pad, flew up and hit me under the eye, but only resulted in plenty of blood and bruising. I have had bails hit me on the cheek, on the head, but you never think it's going to hit you in the eye.
You know when you keep wicket you are in the line of fire. You are taking every ball and can receive lots of blows on your hands and fingers which are part and parcel of the job.
I only kept wicket with a helmet on towards the back end of my career to the medium pacers but you see more and more keepers wearing helmets now, which is sensible with all the switch-hits, reverse sweeps and Dilscoops that players are taking on.
Quite rightly, there are regulations in place in junior cricket that keepers must wear helmets for their own safety.
But anyone saying Mark should have been wearing a helmet is speaking with the benefit of hindsight. Who is to say the ball wouldn't have gone through the visor and struck him in the eye?
Sunglasses may have saved him, but this is a horribly unfortunate injury and a very sad end to what's been a wonderful career.