Jonathan Agnew column: England continue to improve in ODI cricket

By Jonathan Agnew
BBC Cricket Correspondent
Last updated on .From the section Cricket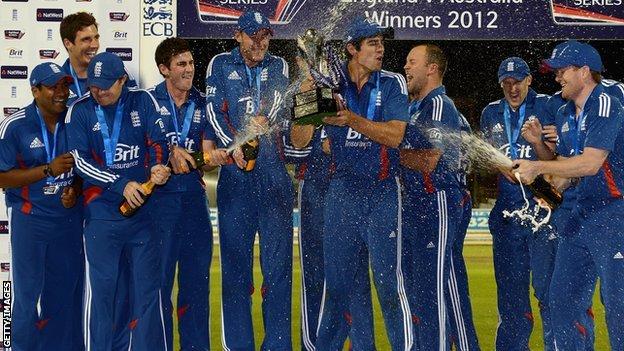 To win 10 games on the trot is very special in one-day cricket.
A record like that suggests England have not once slipped up and, of course, they haven't. They got themselves into the occasional predicament, but always got out of it.
It hasn't been flawless. The catches that Alastair Cook's side dropped against Australia were very surprising but did not change the outcome, so that suggests that the reasons for England's success are deep-rooted.
You can't normally drop the sort of catches they did and go on to win so comfortably unless you are playing well in other aspects of the game, which clearly they are, with the bowling in particular standing out as being head and shoulders above the opposition.
Bowlers win matches, and all of the attack have done magnificently during all the one-dayers against West Indies and Australia. They are wicket-takers, and the way the attack continues to develop will be very pleasing to the England hierarchy.
Obviously, it isn't just down to the bowlers and Ian Bell has been outstanding at the top of the order. After all the wailing and grinding of teeth that came with Kevin Pietersen's retirement, Bell came in and played his own game, while also showing a wider range of shots than the last time he was in the one-day side.
Cook also continues to develop in one-day cricket, gaining in confidence, while Ravi Bopara has also had a terrific series and deserves to be picked for the South Africa Tests after the form he has shown.
Additionally, Cook is improving as a captain. He switches his bowlers around more and is more willing to set attacking fields when the situation arises.
When he first came to the job he hadn't done much captaincy before, and you could tell because there was always three or four people around him offering advice. That doesn't happen any more - he's in charge and he knows what he's doing.
The Edgbaston rain prevented England from earning the 5-0 whitewash that would have taken them to the top of the world rankings, but given their struggles overseas, it's tough to say if they would have deserved top spot.
The rankings reward consistency and so teams have to succeed in all conditions. England have been good at home in one-day cricket for a very long time, their challenge will come this winter when they go to India because they have big questions to answer about how they play cricket in that country.
Firstly, though, they have to hang on to their number one ranking in Test cricket against South Africa, which will be quite a tussle.
If England had gone to the top of the one-day rankings, they would have been the world leaders in all three formats of the game - the first time any country had achieved that.
Questions will continue about if they deserve to be the undisputed best team in the world, but what is for certain is that we have an absolutely enormous year of cricket ahead to answer them.
With the South Africa series, the World Twenty20, the tours of India, the Champions Trophy and the Ashes, you could not ask for a bigger 12 months. It's absolutely fantastic, made all the better by the fact that England are playing so well.
In 21 years of covering English cricket, it's a new position for me to be in and I'm very lucky and privileged to see the team playing so well.