Mark Boucher was South African 'rock' says AB de Villiers
Last updated on .From the section Cricket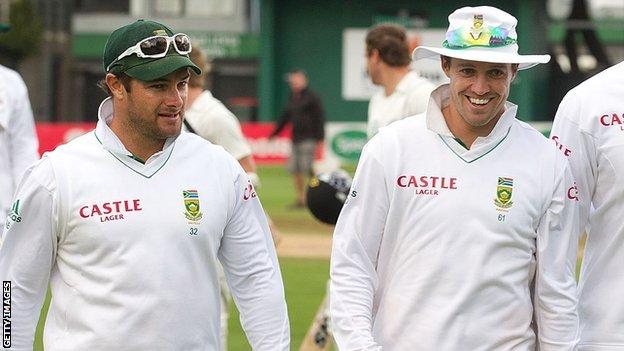 AB de Villiers says he has "huge boots to fill" when he replaces Mark Boucher as South Africa wicketkeeper.
"He's been a rock, the guy with the guts," said De Villiers, who is preparing to keep wicket in the first Test against England.
"He's been an idol in South African cricket for many years."
South Africa have called up Thami Tsolekile to join their touring party but De Villiers, 28, is expected to take the gloves - in the first Test at least - and will try to get his wicketkeeping back up to speed against Kent over the next three days in Canterbury.
De Villiers, who averages 49.16 with the bat but has kept wicket in just a handful of Tests during the Boucher era, says he owes a personal debt of gratitude to his former team-mate.
"He was someone who was there at the start of my career, who looked after me, took me under his wing, helped me a lot with my cricket," he said.
"I probably wouldn't be here without him. It's probably a big call but it's true - he's done a lot for my cricket.
"So not to have him here, it's a bit of an emotional thing - which I've sort of gotten over during the last few days."
England meet South Africa in a three-Test series, beginning at The Oval on 19 July, with the world number one spot in the rankings at stake.
"It would be great to win [the series] and to give it up to him," added De Villiers.
"I think he's inspired a lot of us over the years, and the whole country as well, so it's definitely a bit of extra motivation.
"When you walk out on the field, we're all professional enough to focus on the match, but he will be in the back of our minds, no matter what.
"Even today in slip catching practice, Smithy [captain Graeme Smith] called me 'Bouch'. I said, 'it's me now'. He said 'sorry about that'.
"He will be there in the back of our minds. But it's more for inspiration as much as anything else.
"I like him to be in the back of our minds, because I can tell him I'm keeping well when I'm out there, and the drills that he taught me over the years.
"So it's not a bad thing, as long as you don't get too emotional about it."