Boyd Rankin and Andrew Poynter back for Ireland Twenty20 games
Last updated on .From the section Cricket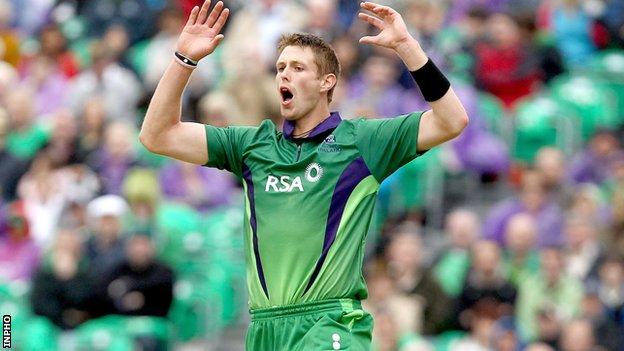 Warwickshire bowler Boyd Rankin is back in the Ireland squad for the three RSA Twenty20 games against Bangladesh to be played at Stormont, 18-21 July.
The 28-year-old hasn't featured for his country since Ireland's successful ICC World Twenty20 qualification campaign in March because of a foot injury.
Clontarf all-rounder Andrew Poynter also returns to the Irish set-up.
The rest of the squad is as expected and includes the 13 named for the one-day game against Australia last month.
"It has been frustrating sitting on the sidelines but it is great to be bowling again," said Rankin, who has taken 109 wickets in his 78 appearances for Ireland.
"These games come at the right time for me as they are ideal in that they are just four-over spells as I continue to build up my fitness and strength.
"The foot is feeling good. The initial healing period was given as 10-12 weeks, but we gave it a further two and I am benefitting from that.
"I am looking forward to the games in Belfast against Bangladesh as we have had some fantastic tussles against them in recent years."
The games against Bangladesh take place at Stormont on July 18, 20 and 21, with the first two games getting under way at 17:00, and the Saturday fixture an hour earlier.
Ireland: William Porterfield (captain) (Warwickshire), Alex Cusack (Clontarf), George Dockrell (Somerset), Trent Johnston (YMCA), Ed Joyce (Sussex), John Mooney (North County), Tim Murtagh (Middlesex), Kevin O'Brien (Railway Union), Niall O'Brien (Northants), Andrew Poynter (Clontarf), Boyd Rankin (Warwickshire), Max Sorensen (The Hills), Paul Stirling (Middlesex), Andrew White (Instonians), Gary Wilson (Surrey).