Alec Stewart: England batsmen have slight edge on South Africa

By Alec Stewart
BBC Test Match Special
Last updated on .From the section Cricket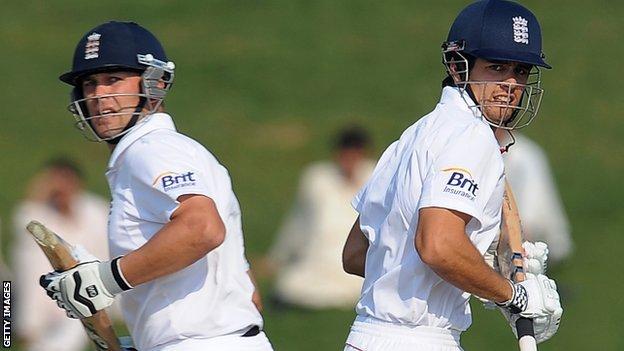 Much has been made of the England and South Africa Test series being a battle of the two best bowling attacks in the world.
For that reason, I see the outcome hinging on who deals best with the new ball - both how the bowlers use it and how the batsmen are able to cope.
Can the England top order deal with Dale Steyn, Morne Morkel and Vernon Philander better than South Africa's batsmen play James Anderson, Stuart Broad and Tim Bresnan?
The victors of those two battles will go a long way to deciding who wins the series and therefore takes the number one spot in the world Test rankings.
As an opening batsman who had to deal with many great new-ball attacks, I can say that, regardless of the strength of the bowlers you're about to face, you should still respect every single ball.
Obviously, the better the attack, the more good balls are bowled, but batting is about playing the right shot to the right ball, whether it be attacking, defending or letting the ball go. That doesn't change. Because you get fewer bad balls, it's also important not to miss out on the opportunities you get to score runs.
All of England's batsmen are in good form but the man who might feel he still has questions to answer is Ravi Bopara.
Now fully fit, his excellent showing in the recent one-day series has rightly earned him a recall and I'm looking forward to seeing what the Essex man can do in the Test arena again.
Bopara is a hugely talented individual, one that I'm a big fan of, but he hasn't shown yet on a consistent basis what he is really capable of in Test cricket.
I hope he will be able to transfer what he's been doing in the shorter formats into the five-day game because, as well as his batting, a few overs of his medium pace could be very valuable.
Since Paul Collingwood retired, a few players have been given the opportunity by England, but the likes of Eoin Morgan and Jonny Bairstow weren't quite able to cement their place at number six. Now it's up to Bopara to try to make it his own. The only way to do that is through sheer weight of runs.
While England have opted for change in their middle order, the very cruel and freak injury to Mark Boucher has forced South Africa into a reshuffle.
AB de Villiers has kept wicket with style in the shorter forms of the game, but to date he has only donned the gloves in three Test matches. When it comes to keeping, there's a huge difference in doing it over five days compared to 50 or 20 overs.
I'm also aware that keeping at times can cause him some back problems and he's inexperienced in English conditions. Because of his unbelievable natural sporting talent, I'm sure he'll do a more than decent job.
The big question is what effect will keeping have on his batting? Without the gloves, I see him as one of the main dangermen in the tourists' line-up, but with the added responsibility of wearing the gloves, will that affect his run-scoring capabilities?
It also means JP Duminy comes into the side at seven and, on paper, that does lengthen the Proteas' batting. However, his average of 34.42 is only four runs better than Boucher's.
Man for man, the quality of both batting line-ups is very similar - with the exception of Alastair Cook, who outclasses Alviro Petersen at the top of the order. I would expect Matt Prior to score more valuable runs than Duminy at seven too.
It's a really close call, because it's the most evenly matched contest that we've seen for a long time but I'm backing England to win by one and retain their status as the world's number one Test nation.