England v South Africa: SA captain Graeme Smith 'one of the greats'
By Stephan Shemilt
BBC Sport
Last updated on .From the section Cricket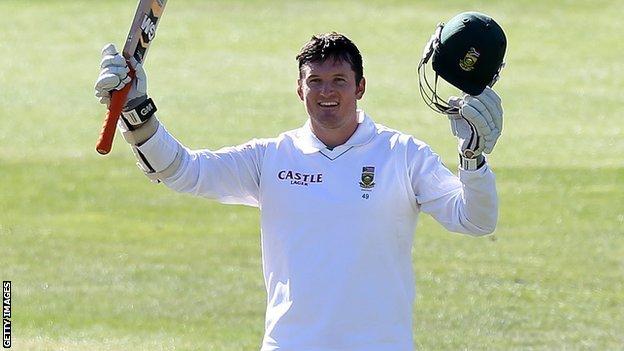 When Graeme Smith was appointed South Africa captain in 2003, the first game of professional Twenty20 was still two months away, London had not bid to host the 2012 Olympics and Kevin Pietersen was ineligible to play for England.
If the choice of the then 22-year-old came as a surprise, then it is a testament to his longevity that the day when he is no longer at the top of the Proteas' batting order will be an even bigger shock.
After a decade where his omnipresence has made him synonymous with South African cricket, the colossus from Johannesburg will earn his 100th cap in the first Test against England at The Oval on Thursday. In the third match at Lord's he will skipper in his 94th Test, breaking Allan Border's record.
"I'm quite proud that it's in England, where I've enjoyed some important milestones throughout my career," Smith told BBC Sport.
"I'll probably have a few extra nerves in the stomach, but there's lots to look forward to."
Those milestones that Smith refers to will remain clear in the minds of the England fans who witnessed them.
On his first visit, the rookie skipper scored a double hundred at Edgbaston that prompted Nasser Hussain's resignation, with a repeat performance in the next Test at Lord's condemning Michael Vaughan to defeat in his first match in charge.
Five years later, the left-hander's unbeaten 154 sealed a series victory, the Proteas' first in England since 1965, in what would prove to be Vaughan's last match in charge.
"He's a terrific captain," said Vaughan. "To have taken the job so young and to still be doing it now is quite an effort.
"It's a huge achievement because it's not just about captaining a cricket team in South Africa, you're also a political leader. The pressure that he would have been under off the field would have been massive."
It is said that bowlers make captains and, in that sense, Smith has been blessed to have the likes of Shaun Pollock, Makhaya Ntini, Dale Steyn and Vernon Philander at his disposal.
The presence of South African greats Jacques Kallis and Mark Boucher in the side has also been of huge benefit, but that is not to detract from Smith's own achievements with the bat, with the imposing opener being an almost constant source of runs throughout his near decade in charge.
With 8,042 runs at an average of a shade under 50, he is second to Kallis on the list of South Africa's all-time top runscorers. Of opening batsman currently active in Test cricket, only India's Virender Sehwag has more.
"He's a great leader with the bat," added Vaughan. "That's his main strength, he goes out and leads from the front."
Leading from the front was perhaps Smith's only option when he was handed the reins with eight Tests to his name.
South Africa had just gone out of their home World Cup in the group stages and the match-fixing shadow of Hansie Cronje, who had died less than a year earlier, still loomed large.
Smith belligerently grabbed his side by the scruff of the neck, announced his arrival with those twin double centuries in England and has enjoyed consistent success ever since.
In 2005 he registered three consecutive hundreds against West Indies and a year later took his side on a winning run of seven series. The Smith-led 2009 win in Australia is South Africa's only ever victory down under, with the Proteas enjoying four months at the top of the world Test rankings later that year.
"Graeme has been an inspiration for this team," said South Africa batsman Hashim Amla.
"The way he's developed as a batsman, player and person is a tribute to him and the attitude he brings.
"He's certainly one of the greats of South African cricket."
A great indeed, but one that South African cricket almost lost - as a captain at least - after the 2011 World Cup, where Smith's side were beaten in the quarter-finals by New Zealand.
Having given up the Twenty20 captaincy a year earlier, Smith, who resigned the one-day captaincy following the World Cup exit, had to be talked out of also quitting the Test job by coach Gary Kirsten.
"I've obviously given up a bit of responsibility and I feel quite renewed in the job since Gary and the current management team have taken over," said Smith.
"The encouragement that they gave me to carry on has given me a new lease of life."
Kirsten may have kept Smith on track to break Border's record, but the skipper is happy to admit that he is planning for life without the pressures of leadership.
"It's a long time to have been captain and it's been a challenge, but I've taken it in my stride," the 31-year-old added.
"I still have a goal to play international cricket for a period of time. I'm excited for what the next few years have in store. Whether I captain for all that time, I don't know. That's something that will unfold."
Smith's immediate plans will involve plotting another series win in England. While that is unlikely to result in the end of another English leader, it will bring down the curtain on their reign at the top of the world rankings and restore South Africa to the top spot.
When he passes Border at Lord's, one of the scenes where he chose to make his mark nine years ago, Smith could once again be on top of the world.