Former captain David Sales could leave Northants at end of season
Last updated on .From the section Cricket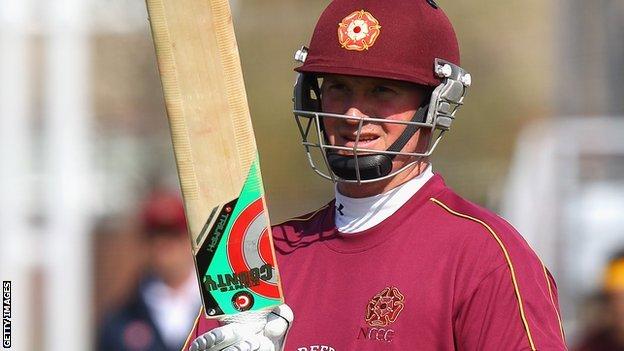 Former Northants captain David Sales could leave the club at the end of the summer after 19 years at Wantage Road.
Sales, 34, has scored more than 21,000 runs in all forms of the game since making his debut as a 16-year-old.
The county has decided not to offer him a new contract at this stage, but could do so in due course.
But they have agreed to allow Sales to speak to other clubs and say they will not stand in his way if he receives an acceptable offer.
The news came just a day after Sales hit an unbeaten 138 in the championship division two game against Glamorgan.
Sales captained Northants from 2004 to 2007 but his career has been interrupted by a number of injuries and concerns about his fitness have prompted the county to delay offering a new deal.
"He's very keen to stay here, we're very keen that he does stay here, but we need to see four to six weeks of cricket [from Sales before the end of the season], not to show us that he can bat - we know that - but staying fit and being on the field," chief executive David Smith told BBC Radio Northampton.
"He's an excellent role model and we took the decision to assist him if he wanted to put his name on the circulation list.
"We'll make a judgement over the next few weeks and I'll be very surprised if he goes somewhere else but we actively encourage players to be as employable as possible.
"If he gets a better offer somewhere else, and we feel that's above the market value, he will go," Smith added.
Sales suffered a serious knee problem suffered during an England A tour to the West Indies early in 2001 which some believe cost him the chance of a Test cap in the Ashes series against Australia that summer.
He also had to sit out the entire 2009 season following knee surgery and missed part of the current campaign after tearing a hamstring.
Meanwhile, Northants have given 18-year-old Norfolk-born seam bowler Olly Stone a two-year professional contract.
"Olly has been with Northants since he was 13, and we have seen him develop as a person and as a cricketer.
"He bounced back from a stress fracture and has been absolutely fantastic this season," said acting head coach David Ripley.