Scotland v England ODI washed out
Last updated on .From the section Cricket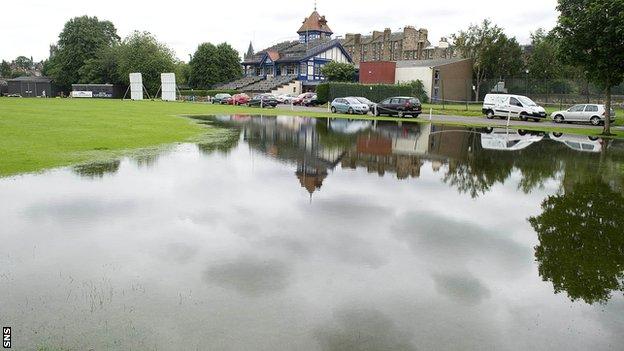 The one-day international match between Scotland and England scheduled for 12 August has been called off due to the wet weather in Edinburgh.
Heavy rain has left large parts of The Grange submerged.
And the soggy ground has made it impossible to erect the temporary stands required to seat spectators.
The same flooding problem meant that Scotland's ICC World Cricket League Championship clash with Canada had to be switched to Ayr last week.
Other grounds on other dates were considered, but the tie has proved impossible to rearrange.
The Grange had hosted previous ODI visits from England in 2008 and 2010 and hosted Sri Lanka last year.
''This is a hugely frustrating decision that Cricket Scotland have had to make, but we could not justifiably take the risk of building on a ground so saturated from a major flood and six weeks of consistent rain," said chief executive Roddy Smith.
"The build is only two weeks away and with an unsettled forecast for the remainder of July, we have had to make a decision based on the facts presented to us and the professional advice we have taken.
"We have been faced with an unprecedented and sustained period of rain that has, unfortunately, taken the season's biggest game from us. ''