Mark Boucher's surgeon hopeful for recovery of vision
Last updated on .From the section Cricket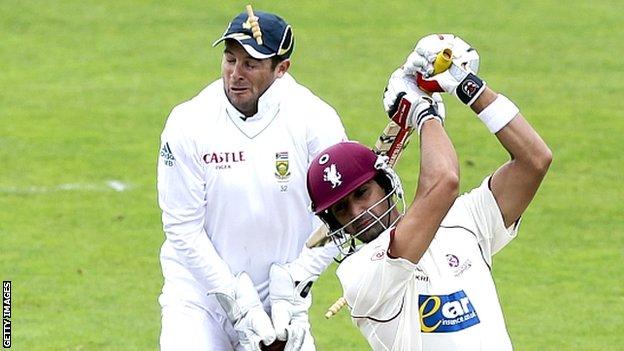 Surgeons treating former South Africa wicketkeeper Mark Boucher are hopeful he will recover vision his left eye.
After an emergency operation in England he flew home for a second exploratory procedure in Cape Town.
A statement said: "It is impossible to predict the long-term outcome, but we are cautiously optimistic he will have a reasonable recovery of the vision."
Boucher made his international debut for South Africa in 1997 and played 147 Tests, 295 one-day internationals and 25 Twenty20 internationals.
He claimed a world-record 999 international dismissals and made 10,469 runs.
His international career came to an untimely end when South Africa spinner Imran Tahir bowled Somerset's Gemaal Hussain on the opening day of their Tour match at Taunton and a bail flew directly into Boucher's left eye.
Following surgery in England, he had the blood that accumulated removed in Cape Town last week.
In a new statement issued on Boucher's behalf by Cricket South Africa, Dr Peter Sandell said: "Mark is currently in the recuperation stage after recent surgery to his left eye.
"Due to the severity of the injury, as well as the pain related to the recent lengthy surgical procedure, Mark has been strictly house-bound.
"Over the next three to six months, Mark will undergo further surgery procedures in an attempt to improve his vision."