Jonathan Agnew: Did South Africa miss a trick against England?

By Jonathan Agnew
BBC cricket correspondent
Last updated on .From the section Cricket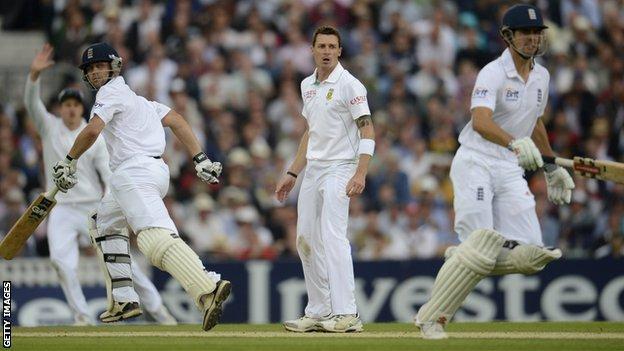 England will feel they have come out on top after a cagey day's Test cricket at The Oval, and they will be content with their work.
However, I think South Africa captain Graeme Smith might rue one or two decisions he made when they had a chance to really get at England.
South Africa were rusty in the field; you could tell they hadn't played Test cricket for a long time because there were so many minor blemishes out there.
Their ground fielding wasn't very good and their throwing was not very accurate.
But the thing they might rue most is not bringing Dale Steyn into the bowling attack earlier than they did.
England were 0-1 in the first over of a three-match series, after Morne Morkel had split England's left-handed opening partnership by dismissing Andrew Strauss.
That brought a right-hander, Jonathan Trott, to the crease and that is when Smith might have brought Steyn, who does not relish bowling against left-handers, into the attack.
For Smith to wait quite so long, he might look back with regret on that decision.
He needed to seize the moment because there will be a passage of play in a three-Test series which can decide the overall outcome.
For South Africa, it might have been when England were 0-1 with the skipper out to the fourth ball of the match. That could have been an opening for South Africa that they will not get again.
After that, England blunted their attack. The tourists bowled outside off stump and Cook and Trott are not usually bothered by that.
They don't get fazed - they let the ball go - which is why I was surprised that Trott chased the one he did.
That kind of made the tactics worthwhile, even though they are negative and boring. Trott will be furious to have fallen to the sucker punch.
Alastair Cook is amazing. There is a wonderful race between him, Strauss and Pietersen to reach 23 Test centuries, surpassing the England record.
He is unflappable - just the man for the sort of situation when you bat first and lose an early wicket.
It was tense early on, but you would not know by watching Cook. He plays exactly the same way - very calm and patiently - and he did nothing out of the ordinary.
He was in such control, and he will just come back and do the same tomorrow. South Africa have to work out a way to dismiss him.
If England can get 450, 470 or even 500, that could be a match-winning score. South Africa have got to make sure England don't get that far because the pitch is going to take spin later in the match and, with the tourists having four left-handers in their team, Graeme Swann will come into his own.
Listen to analysis of the first day's play with Jonathan Agnew and Geoffrey Boycott on the TMS podcast.