Kevin Pietersen: 'Onus on player' for England limited-overs return
Last updated on .From the section Cricket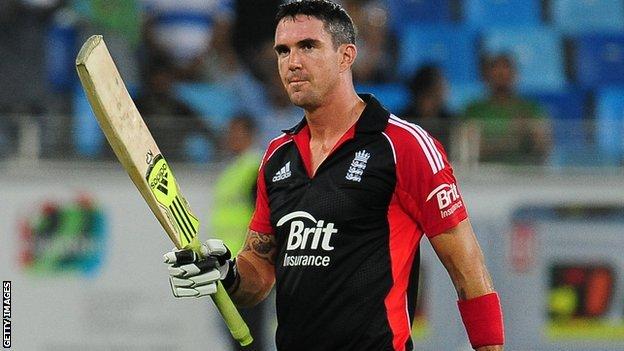 Kevin Pietersen must commit to all England matches if he is to return to international limited-overs cricket, says players chief Angus Porter.
It is understood Pietersen wants an arrangement where he plays about 85% of England matches.
But Porter believes the board will not make a concession to him.
Exasperated by the demands of international cricket's schedule, Pietersen retired from the one-day and Twenty20 formats after the ECB insisted all centrally contracted players must make themselves available for both teams.
Pietersen hinted at a rethink and Porter mediated in talks between his agent Adam Wheatley, ECB managing director Hugh Morris and the board's director of operations John Carr.
"I think the only thing that could move would be if Kevin decided to come out of retirement," Porter, chief executive of the Professional Cricketers Association, told BBC 5 live sports extra.
"The terms in which he does that are very clear and they are laid out. That requires him to make himself available for all forms of cricket."
Pietersen's camp suggested he could play in the whole of next year's Indian Premier League - six weeks rather than the three currently allowed by the ECB - in exchange for being available for England's one-day matches, but that would rule him out of Tests against New Zealand.
His representatives suggested players aged 32 or over, with more than eight years regular service, should be given the option of picking a series to miss.
They point to the example of tennis where leading players are exempt from less prestigious tournaments on the ATP circuit.
Porter does not envisage the board revising its stance, although said there may be England players in the future who were freelance rather than on contracts.
"It's not going to change in the short term," he said.
"What we all have to do is to see whether there are ways in which it makes sense for us to evolve those arrangements as part of the next contract which comes into force towards the end of 2013.
"I don't think we are going to see a dramatic change because, talking to the players, most of them think what we've got is pretty good and working pretty well."
Pietersen was not named on Wednesday in England's preliminary 30-man squad for the World Twenty20 in Sri Lanka in September.
Squads for the tournament must be cut to 15 players by 18 August, and players from outside the original 30 can be drafted in, but with no further discussions planned, Pietersen is resigned to not being included.
Pietersen, who has 1,176 Twenty20 runs, was player of the tournament when England lifted the trophy in 2010.