Jonathan Agnew: Ravi Bopara needs to show urgency

By Jonathan Agnew
BBC cricket correspondent
Last updated on .From the section Cricket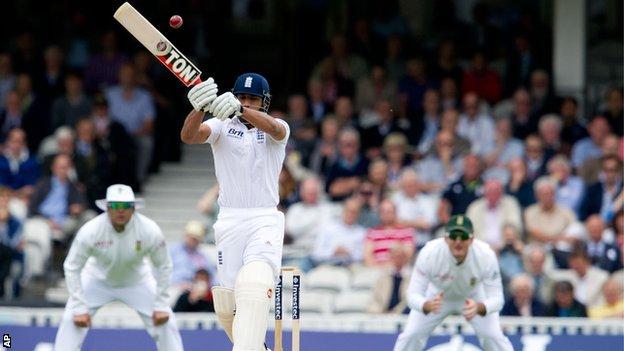 South Africa will be happy with the way they have fought back against England at The Oval.
They weren't at their best on the first day of the match, and England looked like posting 450 in their first innings, but their highly skilled attack has dragged them back into the match.
Alastair Cook will be furious that he gave South Africa a soft wicket to get them going, but Dale Steyn swung it both ways and showed terrific control while Jacques Kallis dismissed Ian Bell with some classic swing bowling.
It was brilliant cricket, but England will be slightly disappointed - particularly Ravi Bopara, who got a duck on his return to the Test team.
Bopara is a very talented player, and one who is in form because he played well in the recent one-day series against Australia, but he has always had this question mark about the way he starts his innings.
He looks dozy and there was a classic example on Thursday when he was on nought and thought about hooking Steyn, changed his mind and left his bat hanging.
He just didn't look sharp. Players like Alec Stewart used to come out and run on the spot to get themselves going, get everything alert, but Ravi walks out dragging his bat and what can you do about that, other than to tell him to wake up?
He gives that impression of not being quite with it. He is loose and languid when he gets in, but I want to see him busy and jumping around a bit to really focus on what he has to do. Perhaps he is pumping on the inside, but he doesn't look like it on the outside.
He and Matt Prior are like chalk and cheese. The wicketkeeper is always busy and he played a typical innings.
Prior played and missed a bit, but he scored quickly and is really valuable down at number seven because England could have been bowled out for 340 if it wasn't for him. It shows the value of what he brings to the team.
Once England got to 385, it looked a good score in helpful conditions. Then came the rain, and it became fresher and looked like a different game once again.
The one thing which will give England hope is that Graeme Swann has turned a couple to Smith off the pitch. They will hope to get a couple of early wickets on Friday because the ball tends to do a bit more in the morning than it does in the afternoon at The Oval.
Overall, I think South Africa had the better day because England could have scored 450 and, with just one wicket down and 86 runs on the board, Graeme Smith will be the happier captain tonight.
Listen to analysis of each day's play with Jonathan Agnew and Geoffrey Boycott on the TMS podcast.