Jonathan Agnew column: Amla and Smith - beauty and the beast

By Jonathan Agnew
BBC cricket correspondent
Last updated on .From the section Cricket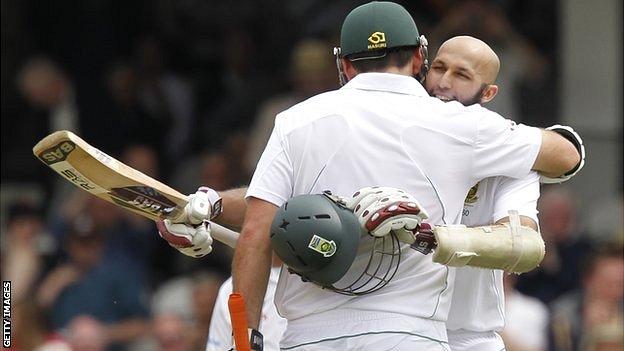 Hashim Amla's 183 not out was a simply brilliant knock, and one which has put South Africa in control of this Test.
I love watching him play. When I first saw him, it was when South Africa had introduced the quota system and he wasn't good enough.
He looked out of his depth and he had to continue playing to fill the quota of non-white players - but look what he has turned in to. Most would argue against the system, me included, but it has produced a wonderful batsman.
He reminds me of Pakistan's Mohammad Yousuf, not just because of their similar beards, but the way they play and the way they look at the crease.
I think he's better through the off side than Yousuf and, for a leg-side player, he has a beautiful cover drive. He's a terrific player; I could watch him all day.
He played in complete contrast to Graeme Smith, the big fella who takes over and dominates. He's difficult to bowl at, a scrapper.
I saw Alec Stewart score a hundred in his 100th Test - it must be a nice pressure, an expectation that you'd like to do something that marks the occasion for yourself. This was a typical Smith innings, not especially pretty, but mighty effective.
I don't think there is a non-Australian that has inflicted so much pain on England during the past 10 years than Smith. England have tried to work out a way of stopping him and have failed. He just gets buckets full of runs against them.
To get one wicket all day was England's nightmare, but that was a possibility when we saw the ball doing nothing under cloudless skies on Friday.
The clouds did not arrive on Saturday to help Andrew Strauss's men, and they won't be here for the rest of the match.
Though they appear to be in trouble at the moment, the home side will reconcile themselves with the fact that the conditions shouldn't be that bad when they come to bat again.
South Africa's score of 403-2 looks bad for England's bowlers, but they tried everything. You could argue that Graeme Swann might have changed ends, but you'd be clutching at straws.
Because of the pitch, I think England will back themselves to save the game, which they will need to do because losing the first match in a three-Test series means it is a long way back.
However, they will know that the pitch is doing little, after all, they've just been bowling on it. The main South Africa threat on the last day will be the leg-spinner Imran Tahir, who didn't bowl very well on the first day, but may prove problematic for the tailenders - they can sometimes struggle against wrist spin.
I'm lucky in that I get to watch all five days of a Test match, a spectator who pays to come for only one day might not get to experience the ebb and flow.
An attritional day like today can sometimes be hard work for the crowd, but it's been about South Africa getting themselves into a position to win the game, which they've done very effectively.
Even though England may now be unable to win the game, their battle to save it should make fascinating viewing over the final two days.
Listen to analysis of each day's play with Jonathan Agnew and Geoffrey Boycott on the TMS podcast.