Jonathan Agnew column: England need Hashim Amla's discipline

By Jonathan Agnew
BBC cricket correspondent
Last updated on .From the section Cricket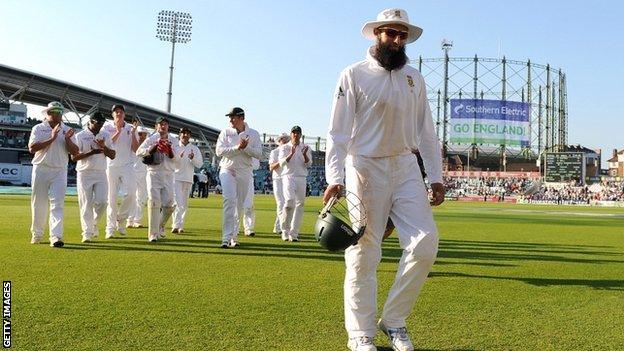 England have been comprehensively outplayed by South Africa in this first Test, and their number one position in the world is seriously under threat.
We talk about a lack of movement for the England bowlers, but in England's second innings, the South African attack found just enough. Dale Steyn swung it a little bit, luring Trott into playing at a wide one, and Cook nicked a reasonable ball.
Strauss will be devastated to sweep the leg-spinner and get a top edge, it was a poor shot. And it was another strange Kevin Pietersen innings; he goes at short balls and then misses one that bowled him middle stump. That was weird and suggests a lack of foot movement, with the bat not coming down straight. That's disappointing.
There were soft dismissals in the first innings, and it was a similar story second time around. There weren't any in South Africa's knock - simple as that.
becoming the first triple centurion for South Africa. He went on and on, giving one half-chance on 40, and that was it in 13 hours and 10 minutes at the crease. It was the type of patient innings that is required in Test cricket.
At the other end, Jacques Kallis was not rushed at all, apart from a few big shots at the end, and he just played in his own time.
South African captain Graeme Smith declared at the right time. It was important because you don't get many chances to win a game and, in a three-match series, you have to take them when they come along.
It was a positive move and it paid off for him because he has now got England on the rack.
There is always the but they won't get help from the weather. The only way they will do it is the hard way and it means people scoring hundreds.
This is Ravi Bopara's chance. He needs to make amends for the first innings but, if England are to save the game, it will need every single one of the remaining batsmen to do well.
The problem England might have is they have so many strokeplayers in their team, and there is no 'Brigadier Block' such as Paul Colllingwood.
You need to be flexible enough to play in a defensive situation, but England have not been good enough at that in recent times.
Listen to analysis of each day's play with Jonathan Agnew and Geoffrey Boycott on the TMS podcast.