Hampshire batsman Glenn Maxwell aims to go out with a win
Last updated on .From the section Cricket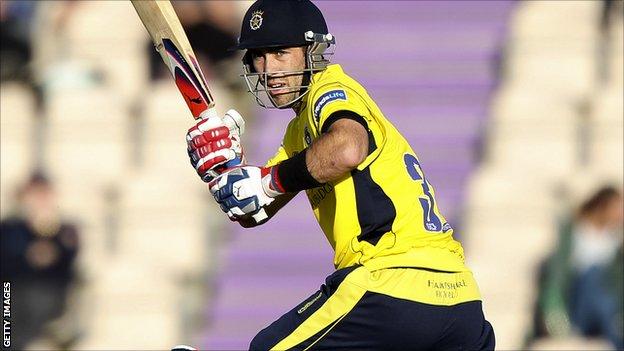 Hampshire batsman Glenn Maxwell says he is determined to go out on a winning note and fire the county in to the finals day of the Friends Life t20.
Maxwell's form for Hants has won him an international call up with Australia, meaning he will miss the climax of the FL t20, should the side qualify.
Hants travel to Trent Bridge to take on Nottinghamshire in the quarter final on Wednesday in Maxwell's last game.
"I'm sure [if we get there] the boys will be fine without me," Maxwell said.
The 23-year-old added to BBC Radio Solent: "As soon as I have to watch cricket I just find it so frustrating to not be there playing or being involved, especially if someone makes a mistake.
"But I'm looking forward to watching finals day."
Hants are unbeaten away from home in Twenty20 cricket, having won four games with the other match rained off, and Maxwell says that is a huge confidence boost to the county.
The Australian has also urged a quick start against Wednesday's opponents.
"I'm really looking forward to it, it's a great ground and I can't wait to soak up the atmosphere," said Maxwell.
"It's good for us we haven't lost away and that record will be with us when we go to Trent Bridge."
Maxwell added: "We cannot afford to miss anything against them.
"Most of their batters haven't got much of a hit this tournament because their top three or four have been so good.
"So I think, if we can take some early wickets and ruffle some feathers, we'll have a real shot at getting under their skin."