Yorkshire coach Jason Gillespie wants T20 positivity
Last updated on .From the section Cricket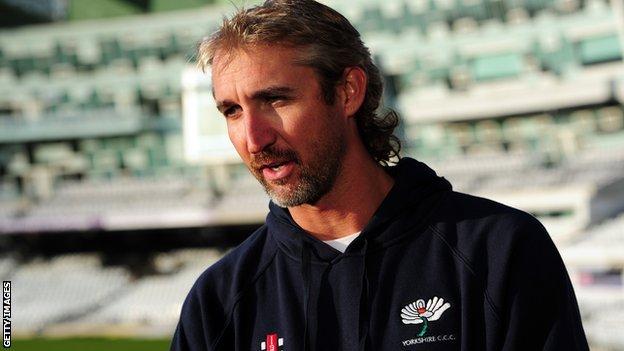 Yorkshire coach Jason Gillespie wants his side to be positive in Wednesday's FL t20 quarter-final against Worcestershire.
A victory for either side would see them progress to finals day for the first time.
"We need to go in with a really good attitude and a real hunger," he told BBC Radio Leeds
"We have very clear and simple game plans and we aim to make sure our body language is as positive as it can be."
Along with Derbyshire, Yorkshire and Worcestershire are the only three counties never to have made a finals day.
Having finished top of their group in the first stage of the competition Gillespie is keen to see his side make history.
"It's an interesting stat and it's certainly something we'd like to rectify," he added.
"We won't be resting on our laurels because we know the sort of play and the standards they're capable of."
Meanwhile, the former Australian Test bowler praised the impact of overseas players Mitchell Starc and David Miller.
Gillespie has been impressed with how the young duo have integrated into the squad.
"They've been outstanding, I couldn't have asked for any more," he concluded
"It's been great to have had them in and they've certainly exceeded expectations. They've made life-long friends here and we're delighted that they've been part of our squad."