Alec Stewart column: England annihilated but must not panic

By Alec Stewart
Former England captain and BBC Radio 5 live summariser
Last updated on .From the section Cricket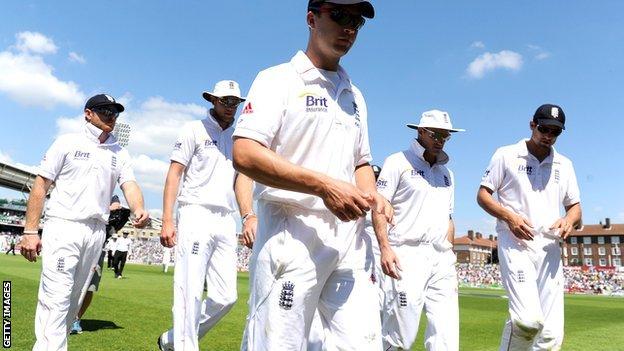 England were on the wrong end of an annihilation in the first Test against South Africa, but there is no need to panic yet.
England did not make the most of winning the toss. From being 251-2 on the first day, they should have gone on to post a total closer to 450 than they managed. Instead, they collapsed to 385 and were then given a lesson on how to bat on a flat pitch by Hashim Amla, Graeme Smith and Jacques Kallis.
The fact is that the second morning was overcast and humid and about the only time in the whole Test that the ball moved off the straight. In those conditions, an attack with the talent of Dale Steyn, Morne Morkel and Vernon Philander is entitled to take wickets. In similar conditions, I am sure the home side bowlers would have hoped for similar success. England's batting also contributed to their own downfall with very few of the top order placing a high-enough value on their wicket.
In addition, England only took two wickets and, quite obviously, they need to find a way of taking more if they are to win the series with the second Test starting at Headingley next Thursday.
We should not forget that this four-man attack has performed very well for a period of time and should still be shown plenty of respect.
Immediately after the first Test, I received plenty of messages on Twitter saying that England need to make numerous changes, but that is certainly not how I would go about things.
We have to remember that England are a very good side, the best in the world according to the rankings, and that has not changed with one poor performance. All the players will be very honest about what happened at The Oval, but will then draw a line under that and move on to prepare for the second Test.
If Flower and Strauss decide that changes need to be made, it will be because the conditions dictate it and not just because of the performance in the first Test. It should not be overlooked that a big factor in England's climb to the top of the rankings has been the sensible and considered selection policy. If tough calls have to be made, then they will be once all options have been closely examined.
Can England bounce back after such a heavy defeat? Of course they can and they need to only look back to the 1998 series against South Africa that I played in for confirmation. We were one down with two to play and came back to win the series 2-1 at Headingley.
In order to recover, Strauss's side need to revert back to doing what got them to the top of the world rankings - scoring big first-innings runs, conventionally swinging the new ball and reverse swinging the old ball. The defeat by South Africa, though very heavy, was their first at home for two years, so I have very few concerns about this England side.
To point out the mistakes England made at The Oval is meant in no way to detract from South Africa's performance. To win the way they did after losing the toss on such a good pitch is an outstanding effort, for which they deserve congratulating.
They recovered after a poor first day to bowl England out, then Smith, Amla and Kallis batted in such a way that the home side were always chasing the game.
The key to that trio making such big scores was how they played Graeme Swann. There was turn for Swann, but only slow turn. They played him brilliantly, knocking him around for 0-151 off 52 overs without ever looking in too much danger of getting out.
From there, the touring pace attack was able to tear in on the fourth evening, knowing that England were batting under pressure to save the game. By reducing the hosts to 67-4, England needed an innings of Mike Atherton-like proportions from Johannesburg 1995, but it wasn't to be.
England have to put in a far stronger performance at Headingley if they want to get back on level terms. South Africa may have won the first battle, but they have not yet won the war.