Alec Stewart: England must fire in huge game at Headingley

By Alec Stewart
Former England captain and BBC Radio 5 live summariser
Last updated on .From the section Cricket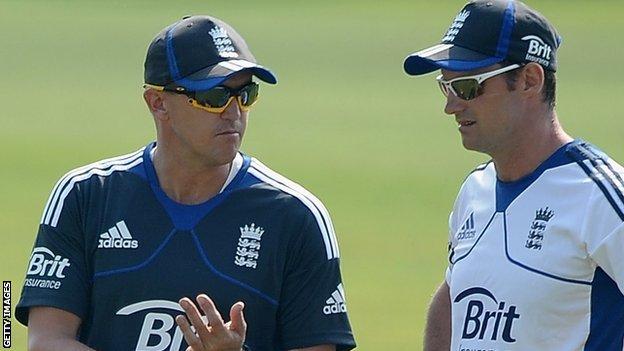 The second Test between England and South Africa at Headingley is clearly a huge game, but the reasons as to why it is so important depend on whether your glass is half full or half empty.
England fans of a slightly negative disposition may focus on South Africa's opportunity to wrap up the series and claim the number one spot in the world rankings.
However, I prefer to see it as England's chance to draw level, setting us up for a grandstand decider at Lord's.
I said last week how there is no need for England to panic after their heavy defeat in the first Test at The Oval and Andrew Strauss's side should have drawn a line under that performance once a brutally honest review had taken place.
As a player, I always tried to prepare for every Test match in exactly the same way, whether it was following an important win or a big loss. Consistency in my routine was a big part of my make-up. That is what England should be doing in the run-up to this match and, under the excellent leadership of Strauss and Andy Flower, I expect them to do just that.
One change that has been forced upon them is the inclusion of James Taylor, who looks likely to make his Test debut at number six after Ravi Bopara made himself unavailable for personal reasons.
Bopara's decision to pull out of the squad at such late notice is not something he will have taken lightly as he will know that it is another opportunity missed in his quest to nail down a regular spot in the team.
Since Paul Collingwood retired England have tried Eoin Morgan, Jonny Bairstow and Bopara and, as yet, none of them have shown that they deserve the job on a full-time basis.
In Bopara's absence, Taylor is the next man to be given an opportunity and he'll be looking to grab it with both hands.
I've been following his career ever since I saw him score a double hundred for Leicestershire against Surrey and the selectors have been aware of his talent and potential for some time now.
At just 5ft 4in he is the smallest first-class cricketer in England but size should not matter when you consider the likes of Sir Donald Bradman, Brian Lara and Sachin Tendulkar were not exactly the tallest, but are looked upon as giants of the game.
Taylor is good off the back foot, strong at cutting and pulling and I'm sure the South African bowlers will be keen to test him out early in his innings.
He appears to have a good temperament, his maturity highlighted by the fact that he has captained the England Lions. We will now discover if he has all the necessary skills to succeed at Test level.
The Headingley pitches of old used to offer plenty of assistance to the seam bowlers, however, in more recent times they have generally been more suited for batting and we can't say with any certainty what the surface will be like until Thursday morning.
I would have thought England will want some help for their pace attack and would like to see the ball going off the straight after having such a tough time in the first Test.
I don't know if Strauss and Flower will have asked the Headingley groundstaff to produce a pitch that suits the home side, but if they have, I would expect their request to be taken on board as playing at home should always be an advantage.
This could also favour South Africa's impressive attack, but after the home side managed to take only two wickets in 189 overs at The Oval any assistance to the England bowling attack will, I am sure, be greatly appreciated. They must be able to take 20 wickets at Headingley to have the chance of winning the Test and squaring up the series.
If they do that, we are in for a treat in the third and final match at Lord's, with the series and top spot in the world rankings on the line at the home of cricket.