England v South Africa: Is James Taylor the answer at number six?
By Stephan Shemilt
BBC Sport
Last updated on .From the section Cricket41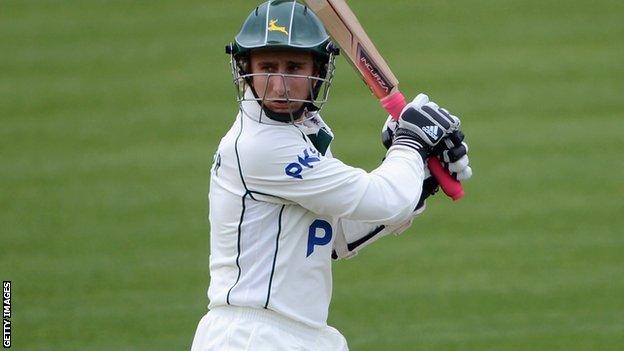 The workings of England's selectors used to be as unpredictable as the British weather, but on-field success has come hand in hand with selection consistency.
While England fans were going through misery in the 1980s and 90s, they at least had the squad lottery of a Sunday morning prior to a Test to look forward to.
Who would pay the price for the latest drubbing? Which journeyman would be plucked from county cricket? Is there another youngster we can pin our hopes on?
However, the steady improvement that began around the turn of the millennium arrived with the era of central contracts and, since then, England's selectors have remained fiercely loyal.
Indeed, since Andrew Strauss's side began their ascent to the top of the world rankings with victory in the 2009 Ashes, five of the top six batsmen - Strauss, Alastair Cook, Ian Bell, Kevin Pietersen and Jonathan Trott - have been virtually omnipresent, their absences only coming through being rested or injured.
Paul Collingwood was another automatic selection before his retirement at the end of the 2010-11 Ashes in Australia, leaving England with a problem to which they are yet to find a solution.
Eoin Morgan, Ravi Bopara and Jonny Bairstow have all been given the chance at six but failed to produce the weight of runs that would have seen them hold down a regular slot.
When Bopara was forced to give up his latest opportunity, pulling out of the second Test against South Africa at Headingley for personal reasons, England turned to another new face, Nottinghamshire's James Taylor.
"We were looking at Ravi playing this series at number six and I was excited to see how he would deal with that," England team director Andy Flower told BBC Sport.
"He's made himself unavailable for personal, family reasons and that's a shame, but it opens up a door for a batsman that has played some really good cricket for the England Lions.
"He's scored consistently in county cricket and I wish him all the best of success. I hope he grabs the chance."
Taylor, who averages 49.94 in first-class cricket, will also be keen to seize an opportunity that former England wicketkeeper Paul Nixon believes is overdue.
"If James had got the opportunities that someone like Ravi has had, he would have cemented his place in the side by now," said Nixon, Taylor's captain when he made his first-class debut as an 18-year-old for Leicestershire in 2008.
"He's a great kid - someone who is passionate about the game and loves batting.
"He was a fast learner from day one, a guy that I've been pushing for a long time. Now he's got his opportunity, I like to think he'll grasp it with both hands."
Taylor's call-up at Headingley, where England must avoid defeat to cling on to their number one Test ranking, has echoes of Trott's selection for the 2009 Ashes decider.
Three years ago England had just been hammered at Headingley. It was - until last week's humiliation at The Oval - their last innings defeat on home soil, with Trott coming in to the side at the expense of Bopara.
The Warwickshire man responded by scoring a century on debut and Nixon feels Taylor has a similar ability to rise to the occasion.
"He's a big-game player who has the temperament for Test cricket," added the former Leicestershire and Kent wicketkeeper, who played 19 one-day internationals for England.
"He gets runs in big games and I think it is good that he is coming into the side on the back of some good form."
That form Nixon refers to is the unbeaten 163 scored last weekend for Notts, the county 22-year-old Taylor joined from Leicestershire last winter.
Notts coach Mick Newell believes the move across the east Midlands was key to earning Taylor a Test call-up, but the diminutive right-hander had already long since been earmarked for international cricket, captaining the second-string England Lions last summer.
Nixon added: "One thing that he has is maturity; he's definitely a future leader. He's enjoyed captaining the Lions and the way he goes about his business is very professional.
"He accumulates, with fast hands and fast feet, generally playing the short ball well. He leaves well and has a good sense of where his off stump is.
"He knows he has to get it and get his weight going into the ball early in his innings because sometimes he can get stuck in the crease. But when he gets in, he loves to dominate so I'm really excited to see how he gets on."
On receiving his call-up on Sunday, Taylor said he had "always backed myself to play at the highest level".
He added: "I hoped that I would be next in line but I never took anything for granted, although I have scored consistent runs in all forms of the game to earn this chance."
England will be hoping that the latest man in line proves to be the solution to their longest-standing selection problem.