Jonathan Agnew column: South Africa tactics backfired

By Jonathan Agnew
BBC cricket correspondent at Headingley
Last updated on .From the section Cricket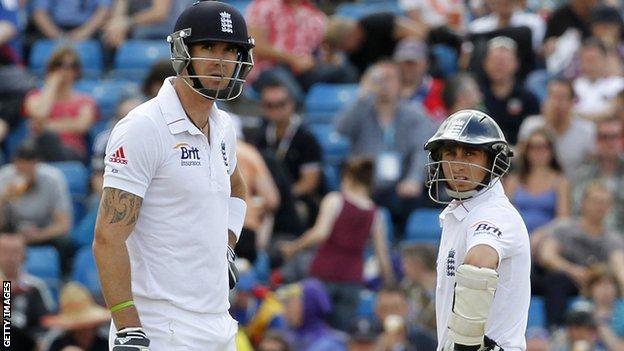 When Kevin Pietersen plays against South Africa, it's a red rag to a bull.
What changed the game today for me were the visitors' strange tactics with the new ball after tea, when they bowled short to Pietersen with four men out on the boundary.
They must have reasoned that they wanted to fire him up, get his ego and adrenaline going so he made a crazy mistake.
I've only ever seen someone use those tactics once before. Dougie Bollinger tried it in Adelaide last time England were in Australia and it was the same result - KP just flogged them.
To have all those men out when you bowl round the wicket, there's only one thing you can do - you can only bowl short. If you pitch it up, he's going to drill you straight because there's no cover.
The tactic I would suggest with Pietersen is you keep him quiet, frustrate him, bottle up his scoring and build pressure by making it difficult for him to hit the boundaries he loves. That's a better way of trying to control Pietersen, not by getting him going.
It was an amazing innings. There was one extraordinary shot against Jacques Kallis where he came down the pitch and hit him on the rise past mid-on's right hand, and a remarkable shot after the second new ball where he nearly took Dale Steyn's teeth out with a straight drive back at his head.
Once he's in, he is a very fine player, and trying to get him going, I would liken it to trying to rev up Viv Richards, you just wouldn't do it - you just try to keep these people quiet.
England had been in trouble after some indifferent shots, particularly Ian Bell. For him to play that shot 10 minutes before tea, with the debutant James Taylor to come in, he'll feel desperate about that. There were so many things that were bad about that shot, not just the execution.
It was also a very out-of-character shot by Jonathan Trott. Whether he got wound up by the South Africans I don't know, I know they do try and get under the skin of Trott and Pietersen.
Those two dismissals go against everything that South Africa showed England on how to bat in this series, they get in and don't get out.
It was disappointing to see England, having had the message of The Oval rammed down their throats I'm sure, have two of the top five again contributing significantly to their downfall.
As for Taylor, he came out there in that horrible situation, 10 minutes before tea, but he played such an unflustered innings, despite all that madness going on.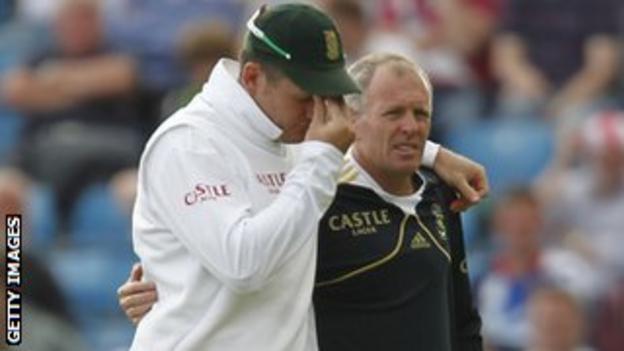 Imagine what it must have been like out there, a young lad playing his first Test, his eyes must have been out on stalks.
But I was so impressed with the way he got his head down, played his own game and was not put off, didn't do anything silly, he just pottered along quietly.
It was a terrific little innings and would have got him a lot of plus points from the dressing room because with Pietersen batting like that and everything going mad, it would have been very easy to have got sucked into it all and he didn't.
There were question marks about playing four seamers and not Swann - would a debutant add more than Prior batting at six and playing five bowlers? But if you're picked, all you can do is play and I thought his temperament looked excellent.
Having had England very much on the back foot, I think South Africa will look back on those tactics, shake their heads and think "we lost the plot there".
Had they come out strongly after tea, with the new ball just around the corner and just nipped out one more wicket they would have been in control, but they lost all that control and gave Pietersen the opportunity to cut loose.
On Sunday, England need to at least get level and try and get beyond South Africa if they can.