Jonathan Agnew column: England must consider five bowlers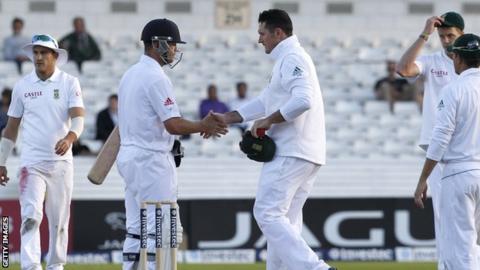 It was an intriguing final day at Headingley, much more interesting than we thought it might have been.
I thought Graeme Smith's declaration was brilliant. In a way it was forced upon him but it's not the sort of declaration Smith and South Africa are renowned for.
It dangled a carrot as England messed up the batting order - do we go for this? It's only a three-match series; how do we play it?
So there was some uncertainty, and that was Smith's chance to try to nip in and win the game.
Whether he'd have declared had they been 250-4, I don't know, but he'd probably have chosen to have done so with 20 overs to go, to come steaming in and knock Andrew Strauss over or something to make a point. As it was, I thought he played it really well and it set up a really interesting finish.
We must mention Stuart Broad's five-wicket haul because if England do only play four bowlers at Lord's, Broad, Tim Bresnan and Steven Finn would all have been under scrutiny.
Broad does this - he suddenly produces these amazing spells, pitching it up, hitting the seam and getting something out of the dry surface. It was brilliant and he'll play at Lord's, no doubt about that.
It's just a shame the weather spoiled what could have been a good game.
South Africa will feel they have taken most of the points as they were put in to bat, but in the end I think it was pretty even.
I know what Strauss will say - "KP got three wickets so we had our spin option covered" - but the thing I liked about leaving Graeme Swann out was that it showed flexibility, whether it was right or wrong.
It's the thing Geoffrey Boycott and I have banged on about in our podcasts - they need to be flexible, to pick differently balanced teams, vary their attack.
That makes it fascinating for Lord's as to what they might or might not do there. They have shown they can occasionally break the mould, so will they play five bowlers?
I haven't seen the pitch. Usually they simply turn out the best surface, but then Lord's is never the deciding match - it's normally the first or second.
I know the groundsman Mick Hunt won't want to be ordered to produce a pitch other than the best possible one, but it is possible he might produce one with a bit more grass on it.
I think England should really seriously consider playing five bowlers. Wins at Lord's are usually pretty hard earned, and South Africa have a lot of batting and have to be dismissed twice.
From an England perspective, I would rather see them lose 2-0 fighting and trying to force a win than drawing and losing the series 1-0 so I think they have to take a bit of a gamble.
They do bat well, and some of the lower order like Bresnan and Broad bat better when they are given some responsibility. We saw Trott and Bell get out to loose shots in the first innings, so give them the responsibility of being a batsman short - that would be my instinct.
Picking five bowlers would admittedly mean young James Taylor missing out and I was really impressed with him in this game. He batted at a pretty crazy time, when Kevin Pietersen was going mad after tea on Saturday, but he showed terrific focus and played a proper Test innings.
In practice, I think they will probably stick to their tried-and-trusted system. They will say, "this got us to number one so we'll trust that to win the game for us".
But I think they will find it hard work with four bowlers, unless they do produce something spicy in the pitch.