Mark Boucher 'unlikely' to return to cricket soon
Last updated on .From the section Cricket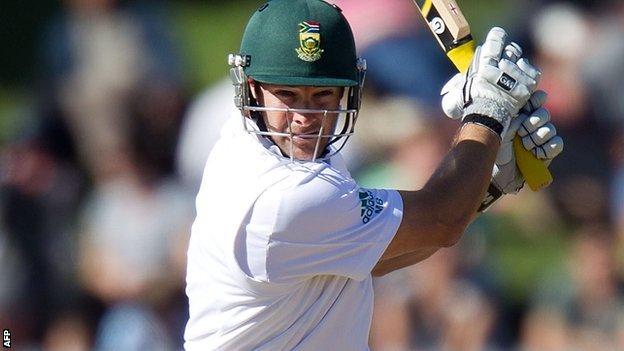 Former South Africa wicketkeeper Mark Boucher says he will not be able to return to action in the near future.
"It is unlikely I will play any professional cricket again in the near future," said Boucher.
"The risk of additional damage to my left eye, or even damage to the other eye, doesn't warrant it."
Boucher, who played 147 Tests for the Proteas, was injured playing for South Africa in a tour match against Somerset.
After spinner Imran Tahir bowled Gemaal Hussain, a bail hit Boucher in the left eye.
He underwent an emergency procedure in England and flew home for a second operation, with Dr Peter Sandell saying Boucher could expect to have a "reasonable recovery".
Following recuperation, Boucher, who claimed a world record 555 Test victims, had hoped to play for Cape Cobras.
But on Wednesday, he said: "I believe I am in good hands with my eye specialist and I accept that the healing process is a long one. Attaining some vision in my left eye will take some time and a lot of patience
"It is very unfortunate as I was looking forward to contributing as a player for the Cobras. It has been a difficult time for me mentally and physically. I have lost the lens, iris and pupil in my left eye, and there was severe damage to my retina.
"I have had two major operations and four blood-draining operations in the past three weeks and physically, at times, I have been in a lot of pain.
"It does get uncomfortable at times and being a sportsman, I want to be active and outdoors but, without a pupil, I find any amount of sunlight very harsh and have thus been restricted to the confines of my home."