Kevin Pietersen Twitter parody account closed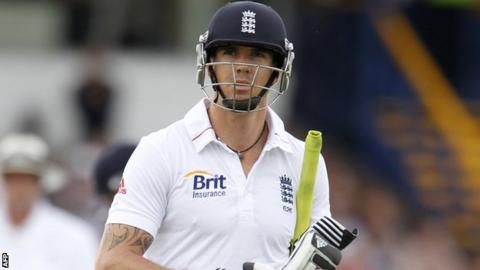 A Twitter account that parodied England batsman Kevin Pietersen has been closed.
Reports on Wednesday suggested Pietersen thought some of his team-mates were behind the account, which poked fun at the 32-year-old.
However, members of the England team have denied any involvement.
BBC cricket correspondent Jonathan Agnew said every England player had been asked if they were behind the account and all had said no.
Pietersen quit one-day internationals in May and has said he may retire from Tests.
On Monday, he revealed that there were issues "in the dressing room" he was trying to address.
Even though the identity of the person behind the account is unknown, Pietersen is still thought to be unhappy that some members of the squad followed and engaged with it.
Many of the tweets were sent while Test matches have been in progress, which appears to rule out anyone playing in those Tests.
Players have restricted access to mobile phones and the internet while matches are on as part of International Cricket Council regulations to guard against corruption.