Mitchell Claydon extends Durham contract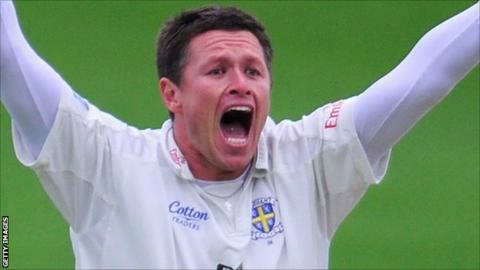 Durham bowler Mitchell Claydon has signed a two-year extension to his contract keeping him at Chester-le-Street until 2014.
The 29-year-old, who joined in 2007, has been a regular strike-bowler for Geoff Cook's side and was part of the two Championship title wins.
"I love playing for Durham so I'm really pleased to have signed for another two years," Claydon said.
"Winning the County Championship was a career highlight."
Although the county has flirted with relegation this season, Claydon has been part of a bowling attack that has secured more bowling points than any other side in the Championship.
With 14 first-class wickets to his name in 2012, he has formed part of an attack that includes England seamer Graham Onions and spinner Scott Borthwick, plus the all-rounder abilities of Ben Stokes.
"With the squad we have and the talent coming up through the ranks, we should be competing to challenge again in the coming seasons," he added.
"My bowling has really come on during my time here and, although this season has been a tough one for the team, our determination and commitment is as strong as ever and I'm proud to be a part of that."
Head coach Geoff Cook added: "Mitchell has become an integral part of our bowling attack and to have him on board for the next two years is great.
"His role has changed in the last season or so as he has had to take on more responsibility and it seems to be something he has really enjoyed."