Graham Onions' England call-up well deserved - Geoff Cook
Last updated on .From the section Cricket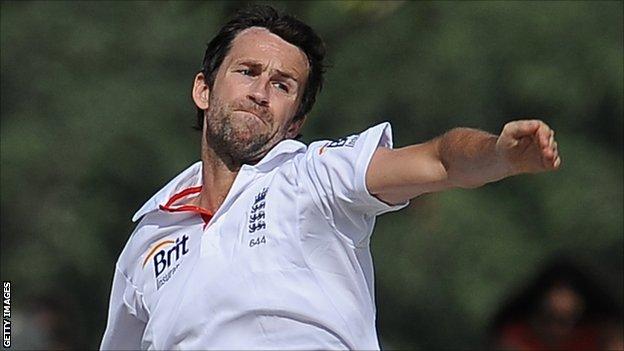 Durham head coach Geoff Cook believes seamer Graham Onions deserves the chance to impress for England despite potentially missing key county games.
Onions will miss the first day of the Notts four-day game on Wednesday and could miss further days if selected for the third test against South Africa.
"He's been brilliant, as all the bowlers have," Cook told BBC Newcastle.
"They've worked really well as a unit and Graham at the top of that unit has been superb."
Cook added: "The ECB have said he's finished with us until Thursday at least, so he can't play the two one-day games this weekend.
"He can't be available for the first day of the game at Nottingham, but if he's not picked for the Test match on Thursday then he can come up and join us, which isn't perfect."
The Gateshead-born seamer has taken 43 first-class wickets so far this season and a total of 51 in all competitions.
Meanwhile Durham aided their bid to avoid relegation from Division One of the County Championship with an innings and 38 run victory against Surrey on Thursday.
The success at Chester-le-Street was their second win in as many games and lifted the county to sixth in Division One.
"These things are going to happen as one team plays [a match] and one team doesn't play," said Cook.
"We never said we had to look at other teams' results, we always had to make sure we played well, got some runs and got some wickets on the board.
"That has haoppened over the last couple of games, we've managed to play well enough to win a few games and we've got to keep their feet on the floor.
"We can't relax, we've got to make sure we've got the preparations right and take that confidence on in a level way because we've got a tough game at Nottingham."