Glamorgan captain Mark Wallace's delight at one-day century
Last updated on .From the section Cricket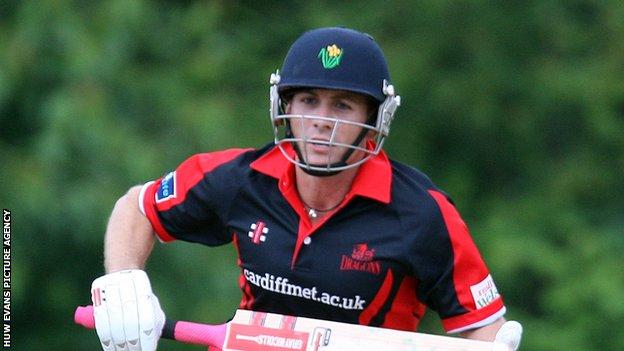 Captain Mark Wallace said he was delighted to be the first Glamorgan wicket-keeper to score a one-day century despite the county's Clydesdale Bank 40 defeat in Durham.
The Dragons went down by 59 runs at Chester-le-Street on Sunday despite Wallace's battling 105.
Durham made 307-2 with Glamorgan replying with 248 all out.
"Getting 100, I'm very proud of it if I'm honest, but disappointed I couldn't go on and win us the game," he said.
"I thought we deserved something the way we played.
"I don't think [scoring a one-day century] was something I would be getting at the start of the season when I was batting six and seven.
"The opening role has come to me with a certain change of tactics.
"It's something I want to do and something I want to do well."
Despite it being a poor season overall for Glamorgan it is Wallace's second batting landmark of the campaign.
During the County Championship match against Keny at Canterbury in July the 32-year-old went past Eifion Jones' career aggregate of 8,341 runs in first-class cricket to become the highest-scoring specialist wicket-keeper in Glamorgan's history.
Assessing the defeat in Durham Wallace said: "We ended up 60 short, but I think we really gave them a fright. Chasing a big score like that I think we did very well.
"I'm very proud [of] the way we performed. We really fought there and I think we had them on the rack a little bit at one stage.
"If either me or Marcus could have gone on and won the game that would have been a great victory.
"We want to be a dangerous side and I think we were dangerous [against Durham]."