Ed Joyce reserved over Sussex's title chances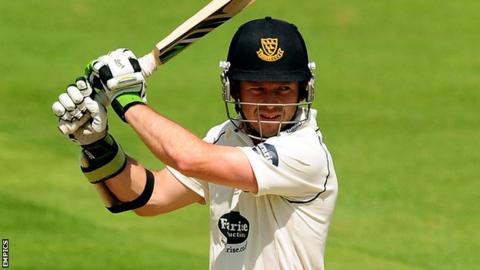 Sussex captain Ed Joyce remains reserved about his side's chances of winning the County Championship title despite a late charge.
The Hove outfit have won three of their last four games to move up to second place in the Division One table.
He told BBC Sussex: "We've got three games left. If we win all of those, you never know what might happen.
"We're on a good streak and have jumped up. You win a few games and things are heavily stacked in your favour."
He added: "Winning four-day games is incredibly satisfying.
"In my opinion, it's much more satisfying than one-day cricket.
"You've got to work extra hard to get those 20 wickets and battle it out with the bat."
The 33-year-old Irishman took over the captaincy from Michael Yardy at the end of last month, and has led the side to wins over Worcestershire and Middlesex.
And Joyce says it has been easy to settle into the role thanks to the support of his teammates.
"There are great minds out there," he continued. "Yards did the captaincy for a long time and he knows what he's doing.
"Murray Goodwin is always in your ear trying to pick your brain and make you make the right decision.
"The bowling unit is very sound at the moment so it's pretty easy captaining those guys."