Kevin Pietersen issue overshadowing Test - Alec Stewart

By Alec Stewart
BBC Test Match Special
Last updated on .From the section Cricket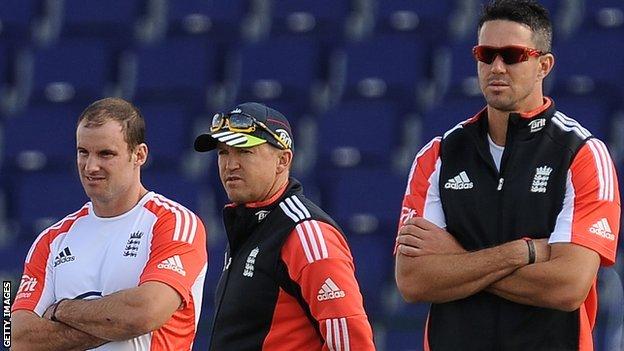 Last week, I wrote that no player is bigger than the England team and that no one is irreplaceable.
I love watching Pietersen play and I believe he is good for the game, but there are currently issues to be resolved before he can return to the England dressing room.
If he has been derogatory about his captain, coach or any team member to anyone - let alone the opposition - in the text messages he is alleged to have sent to some of the South Africa players, then he has made a huge error.
Clashes between players, captains and management are not a new issue and teams can deal with maverick characters because the dressing room would be a boring place if every personality was the same.
However, all 11 have to buy in to the team ethic. If they don't, there should be no room for them. Leaders, who in this case are Andy Flower and Andrew Strauss, lay down the rules and will expect that they are adhered to at all times.
In this instance, it appears that Pietersen has not followed the guidelines set down and for that reason England are without their best player for what is their biggest home Test match since the 2009 Ashes decider.
TV, radio and newspapers are full of the Pietersen controversy and it is taking away from what is a huge third and final match of the series for everyone involved, not least Strauss in his 100th Test.
The Middlesex left-hander has been outstanding for England. Anyone who plays for that length of time is obviously a fine player and I can only speak about him in glowing terms.
He's had some tough times during his career, but has been able to deal with everything that international cricket has thrown at him. That's not just down to his technical ability, but also his mental strength.
Had the headlines not been dominated by Pietersen, more attention may have been focused on Graeme Swann and the decision to leave him out of the second Test at Headingley.
Whether or not that was the right or wrong call, we will never know, but I don't remember Australia leaving Shane Warne out on many occasions, regardless of the pitch. At the time it seemed strange for England to omit a bowler of his quality from their side and I would be staggered if he doesn't play at Lord's.
As for the seam bowlers that England select, not much will be known until conditions are assessed on Thursday.
It is debateable as to whether or not Steven Finn did enough at Headingley to keep his place ahead of Tim Bresnan and for that reason I think England are likely to stick with the Yorkshireman. However, I would not discount Graham Onions making an appearance because conditions at Lord's could suit him.
I'm a big fan of the Durham bowler, who bowls wicket to wicket, with great control in his line and length and always making batsmen play.
Ultimately though, England need to decide which attack will give them the best chance of taking 20 wickets because if they cannot bowl South Africa out twice then the Proteas will be going top of the world Test rankings.
South Africa have been the better team so far in this series, with England struggling to get through the visitors' batting line-up and at times giving their own wickets away far too cheaply.
At Lord's, every England batsman, whether it's captain Strauss or the inexperienced middle-order pair of James Taylor and Jonny Bairstow, needs to place a higher price on their wickets and force the South Africa bowlers to earn success.
The batting line-up would be far stronger if a world-class player like Pietersen was in it, but Taylor impressed me at Leeds in temperament and technique and he and Bairstow now need to stand up and be counted. That's not to put extra pressure on two young men who have only four Test caps between them, but now is the time to show exactly why they have been selected to play for England.
South Africa have outplayed England in the first two Test of this series and deserve to be 1-0 up but I still don't think they are a far superior side.
England possesses the ability to level this series and keep their spot at the top of the world rankings if all 11 players are pulling in the same direction. It will be tough, but this is where the best sides show their true worth.