Kevin Pietersen unlikely to return quickly, says Michael Vaughan
Last updated on .From the section Cricket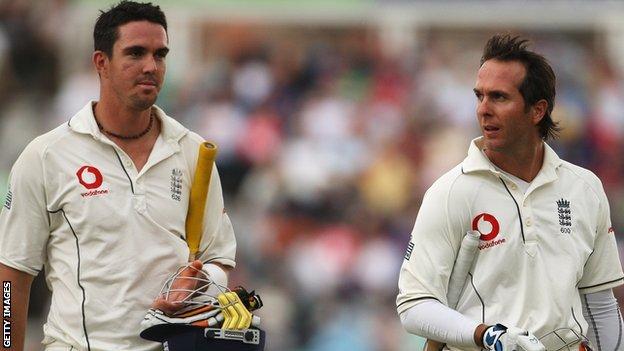 Ex-captain Michael Vaughan says it will be a "long time" before Kevin Pietersen is welcome in England's dressing room.
"If it's true that he sent those texts, it will take a long time for him to be allowed back," Vaughan said.
In a statement on Sunday, Pietersen said he was "gutted" to be dropped but did not comment on the text messages.
Pietersen's omission from the England squad for the final Test at Lord's came at the end of a turbulent week in which he first hinted that he could retire completely from international cricket, only to back down on Saturday and commit to playing for England in all forms of the game.
However, the England and Wales Cricket Board wanted assurances from the 32-year-old that he had not sent derogatory texts about Strauss, which Pietersen was unable to provide.
But, in a statement released on Monday, the South Africa team manager said texts had been sent by Pietersen, but they were nothing more than "banter".
Speaking on 5 liveSport, Vaughan, who was England captain when Pietersen made his Test debut in 2005, added: "Strauss is as popular a captain as England have ever had.
"It's been a mad, but also a very sad week for the England cricket team. There are no real winners, but one very big loser and that's Kevin Pietersen.
"I don't think he's getting the right advice. I don't know who is advising him but in my eyes they are not doing the right job for Kevin.
"We don't know what has been going on behind the scenes for the last few months, because the text messages could only be a tipping point.
"There's no way he could have arrived in that dressing room at Lord's on Tuesday morning. It will take time, but he will get another chance. I hope he does."
Following the second Test at Headingley, when Pietersen first threatened to quit playing for England in all forms of the game, he referred to "points that I'm trying to sort out in the dressing room".
Reports last Wednesday suggested that Pietersen felt some of his England team-mates were behind a parody Twitter account that poked fun at the Surrey batsman, an account that was subsequently closed.
On Monday, a Twitter user followed by several members of the England squad claimed to be behind the "KP Genius" account.
A tweet from an account owned by Richard Bailey said: "Yes the parody was me. It was for humour purposes only and as soon as I realised it was upsetting people I took it down."
Further tweets from the account, which is followed by Matt Prior, Stuart Broad, Tim Bresnan and James Taylor, said: "No professional cricketers were involved in it. I apologise if I upset anyone.
"I would also like to apologise to anyone I know involved with England cricket who I may have put in an awkward or embarrassing position."
You can listen to Tuffers and Vaughan again on the BBC iPlayer.