MCC calls for mobile phones ban during domestic cricket matches
Last updated on .From the section Cricket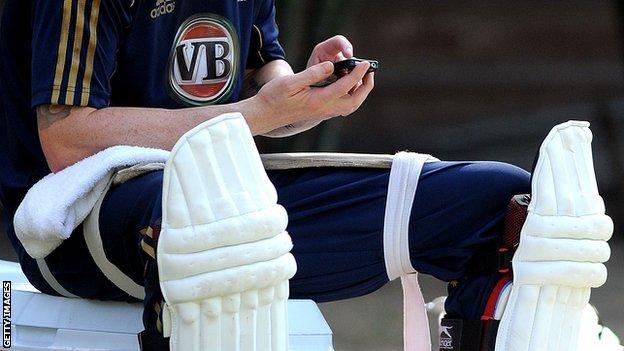 The Marylebone Cricket Club (MCC) has called for players to be banned from using mobile phones during televised domestic cricket matches.
The MCC's world cricket committee endorsed the measure in an effort to tackle the threat of corruption.
Currently only cricketers in international games are barred from using personal phones during games.
The committee also called on all international bodies to adopt the decision review system (DRS).
Committee members - including former England captain Michael Vaughan and ex-Australia captain Steve Waugh - praised the introduction of anti-corruption codes of conduct and player education across the game, but said more needed to be done.
"The MCC world cricket committee, like the ICC, is well aware of the risks of displacement by crooked fixers from international matches to domestic televised matches," said a statement from the MCC - the guardian of the game's laws.
"The committee calls for mobile phones to be banned in dressing rooms for all domestic televised matches."
DRS also featured in discussions which took place at Lord's earlier in the week.
While the technology has been embraced by many national bodies, some cricket boards including India oppose its introduction. Test matches featuring India are often played without the referral system.
"[The MCC] hopes that the time will not be too far away when all countries will agree to its use, at which point a sponsor could be sought to support the costs," the statement read.
A number of other changes in cricket were discussed, including the proposed introduction of day-night Test cricket. The committee approved of the concept and stated that the use of the controversial pink ball, as opposed to red or white, is required.
The committee also pledged to gather together more opinion from within the sport on the innovative "switch hit" batting shot, and how its creation poses challenges for fielding sides and umpires.
The importance of Test cricket relative to the Twenty20 form of the game was also reiterated.
"However, the appeal of Test cricket will be lessened if the conflict with domestic T20 competitions is too stark," the committee warned. "It is also threatened by small crowds and by players who are relatively poorly paid for Test cricket."