England captain Andrew Strauss no stranger to battling adversity
By Stephan Shemilt
BBC Sport
Last updated on .From the section Cricket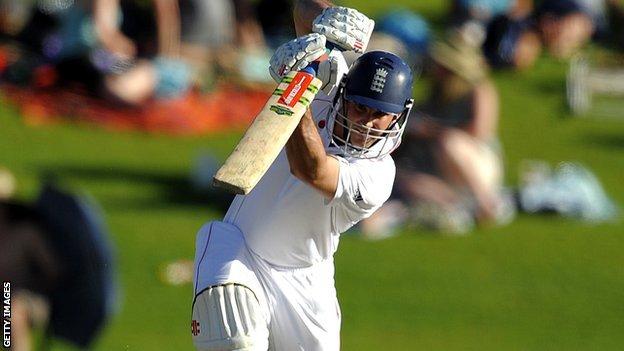 If Andrew Strauss once dreamed fondly of playing his 100th Test for England, the prospect must now have him waking up in a cold sweat.
Not only has the 35-year-old arrived at that personal landmark while having to deal with the Kevin Pietersen fiasco, he also has to plot the downfall of a South Africa side that have been far superior to England in the two Tests of the series to date.
Fail to beat the Proteas in the final match at Lord's and Strauss, in what is also his 50th Test as captain, will suffer his first home series defeat as skipper and, more importantly, see his side surrender their spot at the top of the world rankings.
"Adversity can bring a side closer together," said Strauss, answering the umpteenth question about Pietersen with characteristic dignity and calmness.
"This is a real opportunity for us to show some resolve and strength. I've got every confidence we can win this Test match."
Some may regard Strauss's confidence as misplaced, but that would be to forget the outcome of Pietersen's other great public fall-out with the England and Wales Cricket Board.
When Pietersen resigned as captain in 2009 over a row with then coach Peter Moores, Strauss, whose international career had been under threat 12 months previously, was the only realistic option to take over.
He saw his side bowled out for 51 by West Indies in his first match in charge, but from there took England to the top of the world rankings and on the way became only the third English skipper, after Mike Brearley and Len Hutton, to win the Ashes home and away.
"I have been very fortunate to be part of this team and part of English cricket's brightest moments," said the Middlesex left-hander, who will become the ninth man to play 100 Tests for England.
"Winning the Ashes in 2005 and again in 2009, then especially in Australia in 2010-11, were very special moments to be part of, as well as getting to world number one.
"I have had a lot of good times - they have not all been good times, but you do not expect that."
Then again, given the start he made to his Test career, Strauss might reasonably have expected nothing but good times.
Called up as a replacement for injured skipper Michael Vaughan for the first Test against New Zealand at Lord's in 2004, Strauss became the first the England batsman to score a hundred on his debut since Graham Thorpe 11 years earlier.
"My debut is always going to be etched in my memory," he said. "It was such a special occasion at Lord's to get a hundred."
Strauss's stock continued to rise with three tons in South Africa the following winter and the former Durham University student then played an integral part as England reclaimed the Ashes in the magical summer of 2005.
Not only was he the sole batsman on either side to register two hundreds in the 2-1 win over Australia, but Strauss's gravity defying leap to catch Adam Gilchrist with his body parallel to the ground was an iconic image of a series full of golden moments.
The Ashes triumph would, however, signal the start of a prolonged slump in the opener's form.
Perhaps affected by being overlooked as stand-in captain for the injured Vaughan on the Australia tour of 2006-07 - Andrew Flintoff got the job - Strauss went 13 Tests without a century and was dropped for the trip to Sri Lanka in late 2007.
He responded by going to work on his game in New Zealand and when England travelled to play the Kiwis in early 2008 Strauss was recalled, grasping his second chance at Test cricket with a career-saving 177 in the third Test at Napier.
Twelve months later, Strauss was thrust into the top job, with an unprecedented era of England success following.
As a leader, his statistics put him among the finest captains England have ever had. Only Vaughan, with 26, has won more Tests as skipper than Strauss's 24, and Strauss has a better win-loss ratio.
With bat in hand, Strauss places more value on substance than style, but he has racked up 21 Test centuries, one short of the England record jointly held by Wally Hammond, Colin Cowdrey and Geoff Boycott.
However, these achievements did not stop questions being asked about his position in the side during another recent slump of 25 Test innings without a ton that was ended by two hundreds against West Indies this summer.
"The last year has been interesting, because he struggled for runs until the two hundreds against West Indies," said former England pace bowler Angus Fraser, whom Strauss replaced as Middlesex captain in 2002.
"Others have raised questions about his captaincy, wondering if he is adventurous enough.
"A lot of people take him for granted; they don't recognise what a special bloke he is. I think when he goes, the person who takes over has got big shoes to fill."
The issue of replacing Strauss, with Alastair Cook already appointed as heir-apparent, could become more pressing should England fail to win at Lord's, although he is likely to have enough credit in the bank to be afforded the luxury of deciding when he hands over the reins.
Indeed, there is the incentive of two Ashes series in the next 18 months for both Strauss the player and Strauss the captain.
"I'm very proud that I've hung around long enough to get to 100 Test matches and hopefully there's a few more to come," he concluded.
"Potentially, this could be a special game for me and hopefully I will play well and we will play well, and that will make it really special."