Jonathan Agnew column: United England move on from Pietersen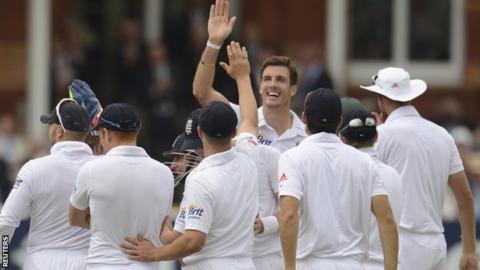 The first day of the third and final Test between England and South Africa belonged to the home side.
Andrew Strauss would not have been upset when he lost the toss because to bowl first on a day like this was not a disaster.
England then used the conditions pretty well, but they have also had some luck, with Steven Finn getting two wickets caught down the leg side.
Jacques Kallis's wicket was a particular bonus for England, because he shouldn't have been given out. His hand was off the bat, albeit minutely, and the third umpire should not have overturned the on-field decision.
Part of the problem was that there was no mark generated by HotSpot, but you could see that the ball hit the glove and there was a definite sound. I don't think there was any doubt that the ball flicked his glove.
However, I'm not surprised Kallis was cross because, if we're going to have the decision review system, it should be used efficiently and that was a human error.
Finn, the beneficiary of that good fortune, was a surprise inclusion for me, because I thought England might have wanted Tim Bresnan's batting in the lower order, especially with Kevin Pietersen not in the side.
But I think he was the right selection because he is more of a wicket-taking bowler. Ultimately, taking 20 wickets is what England, who are 1-0 down, need to do if they are to get away with a draw in this series.
In striving to win this match and put the Pietersen fiasco behind them, England made it very clear today that they are united.
There were huddles, team talks, hand claps and lots of back-slapping from a team that appeared to be very focused on the job in hand.
In that sense, perhaps it was a good thing that they fielded first because it meant they all got out there together without any further distractions.
Also, fielding gave England the chance to make serious inroads into the South Africa batting, which they have done.
By running through the top order in the morning session, the home side ensured that they will not be batted out of this game and they now have the opportunity to get into a very strong position if they can knock off the tail on Friday then post a big first-innings score.
As has happened throughout the series, the ball swung around when under dark clouds in the morning session, while batting looked a lot easier in the sunshine.
The forecast for the next few days is for hot weather, which suggests England could have good conditions in which to bat.
In addition to the action on the pitch, at the toss, I was privileged enough to speak to the two captains, both of whom are playing in landmark Tests.
For Andrew Strauss, he becomes the ninth man to play 100 Tests for England, while Graeme Smith is skippering in a record 94th match.
I've always had a lot of admiration for Smith, even though his in-your-face style hasn't always made him the most popular man in the world.
He was very young and inexperienced when he got the job and it's been interesting to watch him grow into a man of great authority.
As for Strauss, he is simply a top man and a respected leader, which makes the Pietersen issue all the more shocking.
You feel that Strauss needs a couple of good England performances because the clock may be starting to tick a bit for him.
It may be what happens in this Test that decides how many more he adds to that 100, but I'd be amazed if he doesn't go to India as captain this winter.