Kevin Pietersen: Will he play for England again after text saga?
By Stephan Shemilt
BBC Sport at Lord's
Last updated on .From the section Cricket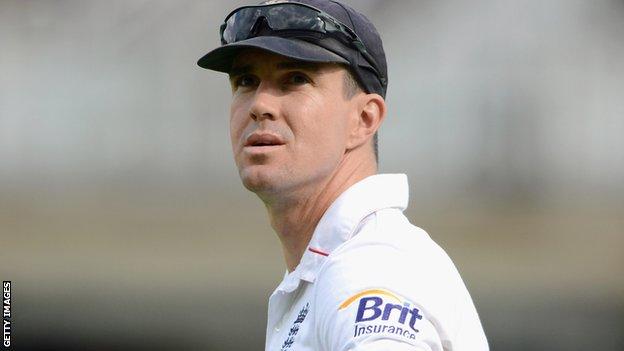 The controversy involving Kevin Pietersen and the text messages he sent to South Africa players cost him his place in the England side for the crucial final Test at Lord's.
Here, Test Match Special's Geoffrey Boycott, Jonathan Agnew, Shaun Pollock and Phil Tufnell give their verdict on the saga and discuss what the future holds for Pietersen.
What has to happen before Pietersen can play for England again?
Boycott: "When you have said something that is not nice about the captain of England, you have to front up face to face. If I was the captain, I would want to know what the texts said and why he sent them, especially to the opposition. The key to it is captain Andrew Strauss knowing that Pietersen feels bad about what has happened."
Pollock: "That's down to how things work in the England set-up and how they can make amends. They need to be men, sit down and discuss what the issues are because it's in the best interests of English cricket for him to play again. Yes, there have been things that have happened that aren't right, but we all make mistakes and people need to be big enough to look past that."
Agnew: "He and Strauss have got a lot of talking to do and the England captain has to have faith that Pietersen's loyalty has been restored. The problem is this is the second subversive episode with Pietersen, with the first coming when he was captain and he tried to have the coach removed. Now the issue of these texts is very serious and he has to earn Strauss's trust again."
Tufnell: "They need to go away, let things settle down a little bit then come back and start having a chat. We don't want to see Pietersen not playing cricket for England because he's a great talent, but obviously there needs to be some dialogue and some coming together."
If Pietersen were your team-mate, would you welcome him back into the dressing room?
Boycott: "It would be very difficult and that's why Pietersen has to front up. For him to send messages through his agent or PR company wouldn't cut it for me because I was taught that, when you do something wrong, you have to put your hand up, apologise and try to make peace."
Pollock: "It's hard to put yourself in that position. Of course you would want a player of his quality performing, but no-one individual is bigger than the team. If they are being disruptive in a certain way then that needs to be dealt with, but it doesn't always need to be dealt with by exclusion."
Agnew: "I would welcome him back, but there are issues in that dressing room that also need to be addressed. Although this episode is separate, there does seem to be some cliques in the dressing room and, when the dust does settle, there are some things for team director Andy Flower to look at."
Tufnell: "I think I would. There needs to be a clearing of the air, then he can come back and do the negotiations to make sure everything is sorted out before he can come back into the side."
Will Pietersen play for England again?
Boycott: "I wouldn't be putting any money on it because it's a very serious breach of trust and disrespectful to the captain. If you start saying derogatory things, then that is not good."
Pollock: "I think so. He's still young enough at 32, so even if they decided that he couldn't play for England for six months or a year then there would still be time to make amends. I definitely wouldn't see this as the end, but maybe it does need time for things to settle because we don't know how severe the texts he sent were."
Tufnell: "I'm really not sure because I'm not privy to the severity of what's gone on, but people have lost patience and something had to be done."
Agnew: "Yes, not least because Strauss is a forgiving man and England want Pietersen in the team. But, if that is to happen, then Pietersen has to do it on the team's terms and not his."