Jonathan Agnew column: Jonny Bairstow proves doubters wrong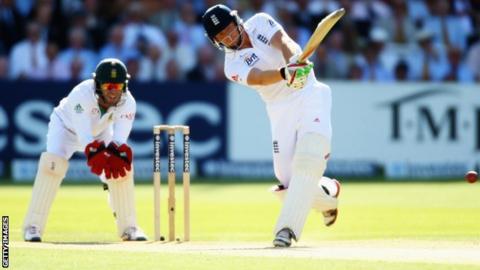 You have to take your hat off to the way Jonny Bairstow played today - it was a really terrific innings.
He came to Lord's with a lot of talk about his inability to play the short ball, which I thought was a little premature because it's dangerous to identify a weakness on the basis of a few fleeting observations during the West Indies series.
I was speaking to his mum, Janet, during the second Test at Headingley, and she was worried that his chance had gone.
But I reassured her by saying that he was only 22 and another chance - possibly after a long wait - would come. I certainly didn't think he would play in the next Test and have an
It was looking horrible for England when he and Ian Bell came together at 54-4. Bairstow was really roughed up and worked over, with a lot of banter and hostile fields, and he played fantastically well.
The only time he looked a bit loose was when leg-spinner Imran Tahir came on because he tried to impose himself, playing a few injudicious shots.
We know Bairstow was in decent form because of the 139 he made against Australia A earlier this month, but he showed a lot of character at Lord's.
He seized an opportunity and, whatever happens in this game, it's a very good performance. England captain Andrew Strauss was the first man out on the balcony to applaud.
There was pressure on Bairstow because of the circumstances in which he came into the side, as there are people out there who still think Kevin Pietersen should be playing.
People in the England camp are comfortable that Pietersen isn't playing after the text saga, so they will want Bairstow to do well.
As for the state of the game, England are still clinging on. They have a longer tail than usual with no Tim Bresnan playing, and they need to get level, copying what the South Africa lower order did.
The new ball on the third morning will be important because it has done a bit all game. That said, it looks likely to be very hot on Saturday, not the sort of conditions where you would expect the ball to move around.
England will have to knuckle down, negotiate the new ball, eke out every single run and bat as long as they can because this could effectively be a one-innings match. The game has moved on quite quickly, so there's still plenty of time left.
South Africa have been aggressive and Morne Morkel's first spell with the new ball was outstanding.
He was doing everything contrary to what you would expect. He was coming around the wicket, angling in at the left-hander and moving it up the slope. He was phenomenal.
The South Africa bowlers have definitely got the ball to move more than England's; I've marvelled at what they've done, almost how England did against Australia in the 2005 Ashes.
This isn't reverse swing, and I don't know if they have a new technique, but they seem to have stolen a march on England. It's one of the talking points of the series.
There might be one or two disappointed England batsmen - Strauss got out after getting in, Alastair Cook was loose outside off stump, and Jonathan Trott played across the line to Dale Steyn, who seems to be doing him every time. James Taylor looked impressive again, calm and unruffled until he edged Morkel.
But the innings of the day was Bairstow's. To come into a match like this with all those questions to answer, it was a real examination and he's come through it. He has got character, but we knew that already.
It has been a terrific day, which can tell by how engrossed the crowd were in the cricket. Every ball has been important, with every run and wicket battled for.
It's a fascinating match and you'd rather be in South Africa's position, but a good first session will make it even again.